Open enrollment is in full swing, which means it's time for employees everywhere to review their options and choose a health plan for the year ahead. This can be a stressful process involving new terminology that may leave you with questions even after you look them up. Our new guide to choosing a health plan can help employees and health care consumers looking to make sense of this complex decision.
The guide contains all the steps employees can take to feel confident about their health insurance decisions, plus helpful questions and other tools that can make the process even easier.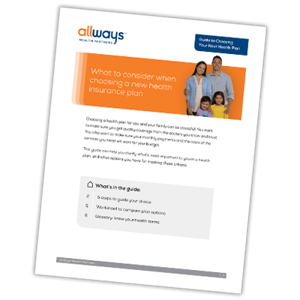 Get the guide: What to consider when choosing a new health insurance plan
Whether you're a broker or employer, the guide makes a great resource to share with employees who might be choosing between the plans a business is offering.
Here's a preview of what you'll find in the guide:
1. Learn the terms
The best way to start when it comes to choosing a health plan is to understand the most common health insurance terms. Having a good understanding of cost sharing terms and types of plans will make it much easier to compare your options. You can visit HealthCare.gov for a comprehensive glossary of terms or get a more concise glossary with the most common definitions in our guide.
But, if you've read up on the difference between PPOs and HMOs or any other terms and still feel lost, that's okay. It can be hard to understand what these terms mean in practice, so our health plan guide also includes steps that will walk you through the real-world applications of these definitions.
2. Assess your needs
When deciding what type of plan is the right fit for you, it's important to consider factors like the doctors you see today, your medical needs, and your budget. Thinking through these topics can help guide your choice of plan. For example, if you're comfortable paying more each month to have more controlled costs when you use your health plan care, then a plan with a high premium and lower out-of-pocket costs might be right for you.
Our guide contains a section for each of these topics and questions that will help you decide your preferences, making it easier to see which plan options best match your needs.
3. Compare plans
Once you know your plan options, you can do a side-by-side comparison. While cost sharing and premiums aren't everything, those are often the aspects of a plan that impact members the most. Directly comparing these numbers, especially for services that you use often, can be another factor that helps you make your plan choice.
Our guide contains a helpful chart with space for you to fill out cost sharing specifics for 3 plans, including payroll deductions, visits to your primary care provider, your out-of-pocket maximum, and other important aspects of plan coverage.
---
For a complete guide to picking your next health plan, we recommend checking out What to consider when choosing a new health insurance plan. This helpful resource will help clarify what's most important to you in a health plan, and what options you have for meeting those criteria as you decide which plan is right for you.