Having a great relationship with an employee benefit advisor is so valuable when it comes to making the best health plan decisions for your business. They can walk you through how to pick the best health insurance plan for both your employees and your bottom line. For a more effective relationship with your employee benefit advisor, check out our download of 5 tips for a successful business partnership.
1. Request periodic check-ins.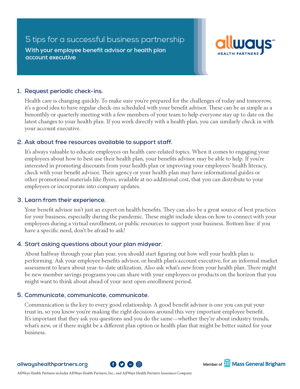 Health care is changing quickly. To make sure you're prepared for the challenges of today and tomorrow, it's a good idea to have regular check-ins scheduled with your benefit advisor. These can be as simple as a bimonthly or quarterly meeting with a few members of your team to help everyone stay up to date on the latest changes to your health plan. If you work directly with a health plan, you can similarly check in with your account executive.
2. Ask about
free resources available to support staff.
It's always valuable to educate employees on health care-related topics. When it comes to engaging your employees about how to best use their health plan, your benefits advisor may be able to help. If you're interested in promoting discounts from your health plan or improving your employees' health literacy, check with your benefit advisor. Their agency or your health plan may have informational guides or other promotional materials like flyers, available at no additional cost, that you can distribute to your employees or incorporate into company updates.
3. Learn from their experience.
Your benefit advisor isn't just an expert on health benefits. They can also be a great source of best practices for your business, especially during the pandemic. These might include ideas on how to connect with your employees during a virtual enrollment, or public resources to support your business. Bottom line: if you have a specific need, don't be afraid to ask!
4. Start asking questions about your plan midyear.
About halfway through your plan year, you should start figuring out how well your health plan is performing. Ask your employee benefits advisor or health plan's account executive for an informal market assessment to learn about year-to-date utilization. Also ask what's new from your health plan. There might be new member savings programs you can share with your employees or products on the horizon that you might want to think about ahead of your next open enrollment period.
5. Communicate, communicate, communicate.
Communication is the key to every good relationship. A good benefit advisor is one you can put your trust in, so you know you're making the right decisions around this very important employee benefit. It's important that they ask you questions and you do the same—whether they're about industry trends, what's new, or if there might be a different plan option or health plan that might be better suited for your business.