Election day is here, and over two-thirds of American adults say that the 2020 election is a significant source of stress on their life, according to the American Psychological Association (APA). The stress won't end when the polls close, votes are counted, and final results are tabulated. Here are 5 tips for reducing election stress.
Who is stressed about the 2020 election?
A new survey conducted by The Harris Poll on behalf of the APA found that 68% of American adults find the 2020 election to be a significant source of stress on their life, compared to 52% who felt the same about the 2016 election. 77% of Americans are deeply stressed about the future of our nation, up from 66% in 2016. The political climate in general is also causing significant stress for 68% of Americans, up from 62% in 2016.
This percentage is not restricted to only one political party. The study found that 76% of Democrats, 67% of Republicans, and 64% of Independents say that the current election is a significant stressor.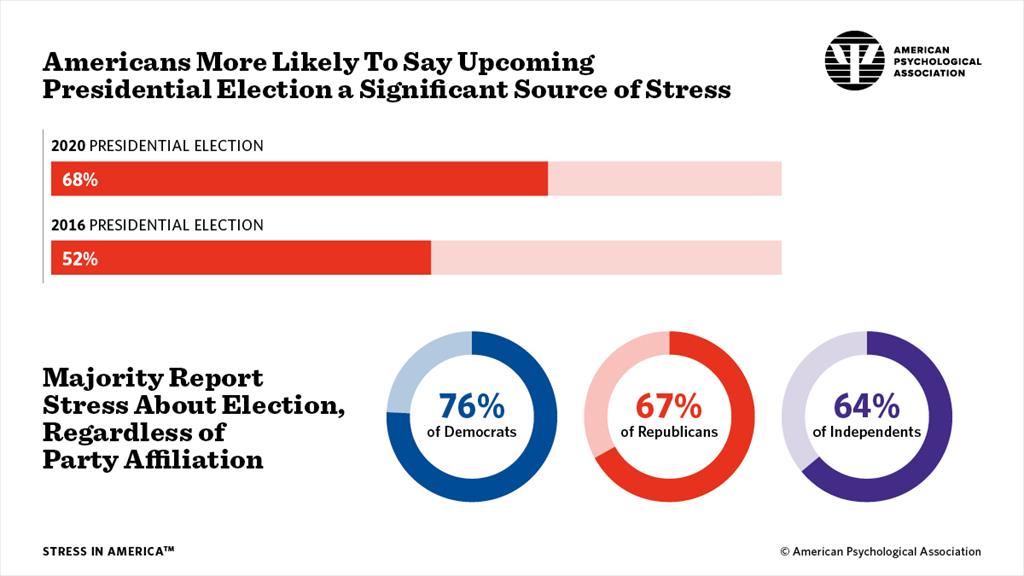 American Psychological Association.
However, certain groups are reporting more stress than others. For example, 71% of those with a chronic health condition are deeply stressed about the election, up from 55% in 2016. Among those without a chronic condition, 64% are stressed, up from 45% in 2016. Perhaps the most striking change from 2016 to 2020 was found in Black respondents: 46% were deeply stressed about the 2016 election, whereas 71% are deeply stressed about the 2020 election.
How to reduce election stress
The APA offers some advice on how to reduce the stress caused by the election. The root of this stress is likely the uncertainty of the situation exacerbated by the uncertainty people are already facing due to the pandemic. If your patients are stressed about the election, here are some tips that can help:
Don't dwell on what you can't control. It's easy to imagine worst-case scenarios, but that only causes more stress. Advise your patients not to do this and to find more productive things to focus on instead.
Focus on what you can control. Following the news, watching the debates, or scrolling through social media might be sources of stress for your patients. Encourage them to limit their media consumption and take breaks from the news.
Find meaningful activities. Advise your patient to think about what's important to them and find activities to support those things. Getting involved in issues that matter to them will keep their mind off the uncertainty of the world, and on the things that they have the power to change.
Stay connected. Encourage your patients to spend time with family and friends. Those who have at least one or two people to turn to for emotional support tend to cope better during stressful times than those who don't.
Stay active. Moving around helps release nervous energy that can build up from stress.
If you have concerns about the mental health of your patients beyond the election, AllWays Health Partners has behavioral health resources and screening tools available online.