With each new year comes new goals and resolutions. Many of us resolve to eat healthier, exercise more, and break bad habits like smoking. But what people with employer-sponsored health plans might not know is that their plan most likely has resources that can help them meet these goals.
There are many benefits to workplace wellness programs: using fewer sick days, appealing to top talent, and most of all happier, more productive employees. If you want to help employees stick with their health-related New Year's resolutions throughout the year, it's important to understand what programs their health plan(s) offer and what resources are available to promote them.
According to a survey by Inc., the most popular health-related New Year's resolutions in 2019 were:
Diet or eat healthier
Exercise more
Lose weight
Quit smoking
Drink less alcohol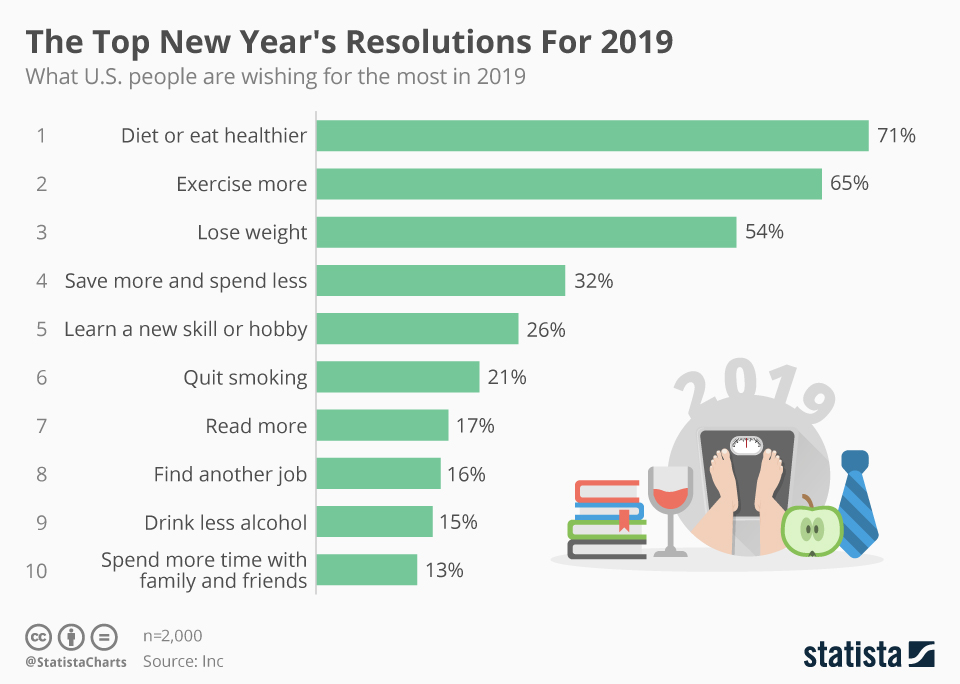 Here are a few ways health plans can help employees fulfill these resolutions:
1. Set realistic health goals with advice from a health coach
Often, the hardest part of making healthy life changes is getting started. Without a plan in mind, resolutions tend to fall apart. If the health plans you're offering include the services of a health coach, they can be a great resource for employees struggling with how to follow through on their new goals.
By connecting with a health coach, employees can get answers to their health questions and develop a personalized wellness plan for eating better, losing weight, and more. These coaches can also help employees get in touch with resources in their community that can keep them on track all year long.
Starting off the year with an actionable plan is a great way to improve employees' chances of success when it comes to following through on their resolutions.
2. Join a gym and get money in your pocket
To encourage physical activity, many health plans offer some form of fitness reimbursement. This is typically the cost of one or two months' membership fees, either on an individual or family basis. If employees are interested in making exercise at a local gym part of their daily or weekly routine, having a month or two reimbursed by their health plan might be the encouragement they need to get started.
Pilates, Yoga, and other fitness options, like personal or small group training sessions, are also often covered under fitness reimbursement programs for employees who prefer different types of exercise. Eligibility rules do vary among health plans, but oftentimes employees can get reimbursed after a few months of gym membership.
3. Quit smoking with a tobacco cessation program
Quitting smoking is no easy task, but with so many immediate and long-term benefits for smokers and their families, it's a worthy resolution. To help take on this challenging commitment, it's common for health plans to offer some type of tobacco cessation program.
These programs might include counseling with a tobacco treatment specialist who can educate members on quit methods. From there, they can develop a personalized plan to quit and get ongoing support to increase their chances of success.
If some employees have tried to quit before but were unsuccessful, this kind of support might be exactly what they need to quit for life.
4. Improve other health conditions with care management programs
Tobacco cessation isn't the only care management program health plans offer. Employees who are looking to improve the way they handle their common or complex conditions can seek help through other programs as well. These programs are designed to help members who have conditions like asthma, diabetes, drug addiction, and cardiovascular disease—to name a few—improve their quality of life.
Many programs offer one-on-one phone calls with certified nurses or therapists specialized in their area of care. They can help educate employees about their condition and provide assistance when it comes to getting necessary equipment, medications, or even appointment referrals.
Ask your health plan about available promotional materials you can share with employees to make them aware of these programs. If even one person benefits from them, you'll have made a positive impact on someone's ongoing health condition.
5. Save money on services with perks and discounts
Saving money and being financially responsible are also common New Year's resolutions. To help employees save on their health care, many plans offer discounts on health-related products, health education classes, over-the-counter drugs, and more.
Another way employees can save on care this year is through programs that give members a cash incentive for making smart choices about where to get care. These programs often make it easy to find quality providers who charge less for services than others while providing the same great care.
Here's wishing everyone great success in keeping to their New Year's resolutions.