Our network providers have let us know that they're struggling with the need to care for patients during the COVID-19 crisis in a safe and effective way. In response, AllWays Health Partners has partnered with Microsoft to offer AllWays on Teams, a free telehealth app for providers.
Virtual care is critical to prevent the spread of
COVID-19
Our COVID-19 response team has identified virtual care as a critical need for you and your patients. We realize that your patients may eventually be subject to quarantine or unable to get to your office. Some of our network providers have expressed concerns about how to care for quarantined or ill patients in a safe, HIPAA-compliant way.
According to David Segal, President and Chief Executive Officer, "AllWays Health Partners is committed to removing barriers and ensuring timely access to care during this public health emergency. As part of an integrated health care system, we have a unique opportunity to leverage our partnership to support all providers in our network to care for their patients and themselves."
Free telemedicine solution and support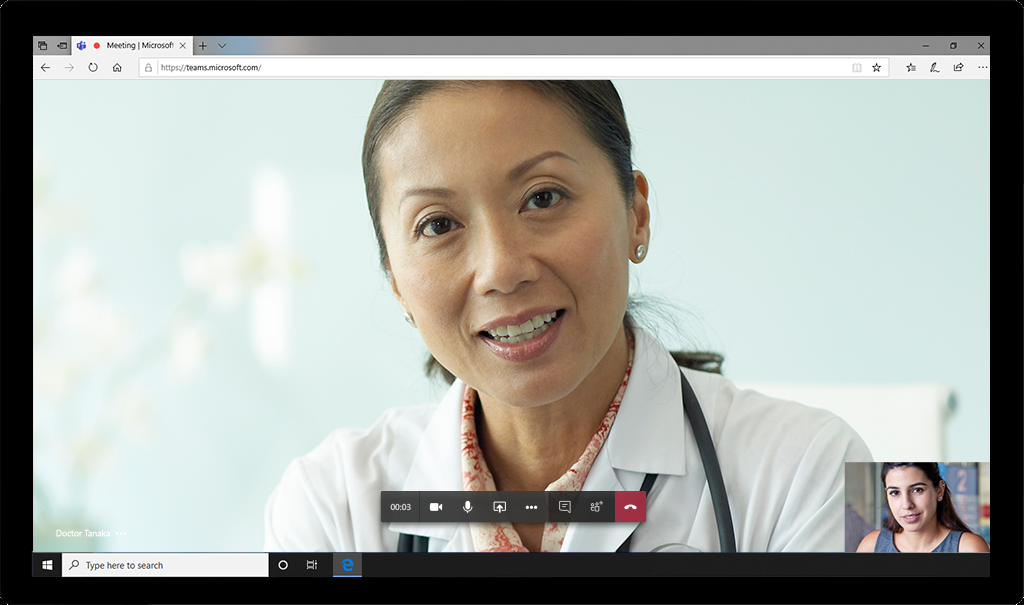 In response to this critical need, AllWays Health Partners is working with Microsoft to offer AllWays on Teams, a virtual visit platform for providers in our network. "Our organization is dedicated to finding smart solutions that make a difference for our customers," explains Mark McCormick, Chief Operating Officer. "During the COVID-19 outbreak, we're focused on leveraging technology to enable providers to deliver the best care to our members through partners like Microsoft."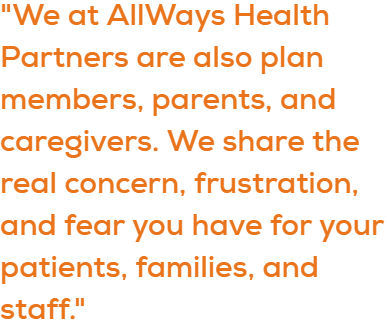 AllWays on Teams will help to protect you, your staff, and your patients from exposure while allowing you to continue delivering much-needed care. This offer will extend for the next six months to ensure you are able to care for your patients through the COVID-19 outbreak.
Get started in a 30-minute webinar
On Tuesday March 17 and Wednesday March 18, we'll be hosting free webinars for providers who are interested in adding virtual visits to their services.
As you're launching telemedicine at your practice, AllWays Health Partners and Microsoft will support you each step of the way. "We at AllWays Health Partners are also plan members, parents, and caregivers," says Christine Murphy, our Vice President of Network Management. "We share the real concern, frustration, and fear you have for your patients, families, and staff. We urge you to attend the webinar and take advantage of this option to help you care for patients during the COVID-19 outbreak."
About our COVID-19 response team
COVID-19 (coronavirus) is now a global pandemic with more than 100 cases in Massachusetts. In response, AllWays Health Partners has created a cross-functional team to address this crisis as it changes and escalates. Our COVID-19 response team includes Jim Hellinger MD MSc, an infectious disease specialist and AllWays Health Partners medical director. The COVID-19 team is responsible for:
Staying abreast of information from the CDC, DPH, the DOI, Partners HealthCare, and other authorities
Removing barriers to care and giving members the information they need to use their plan
Supporting providers as they work to maintain care continuity during the COVID-19 crisis
Implementing any necessary changes to our operational systems and administrative policies
The COVID-19 response team has already expanded telemedicine services for our members by removing cost sharing for all fully insured commercial plans. Read our coronavirus FAQ for more operational updates.
About Microsoft Teams: Empowering care teams with new tools in Microsoft 365
Healthcare professionals play a critical role in supporting the health, safety, and wellness of people around the world. When working in a complex care environment—made even more complex by events such as the spread of COVID-19—doctors, nurses, and other healthcare staff need access to tools that enable collaborative workflows to deliver high quality patient care. Both patients and clinicians need greater flexibility and convenience when it comes to being able to connect with each other across locations.
That's why Microsoft launched new capabilities in Microsoft 365 to empower care teams to securely collaborate, communicate, and connect with patients and with each other. Read more on the Microsoft 365 website.