Although January is Cervical Cancer Awareness Month, knowing how to prevent cervical cancer is important all year long. It's especially important now, when the national rate of cervical cancer is going down, but certain socioeconomic groups are seeing more cases than ever. Learn how this disparity is caused and how you and your patients can prevent cervical cancer.
Rising cervical cancer rates
Although cervical cancer is a preventable disease, an estimated 12,000 new cases are diagnosed in the United States each year. Many of those diagnosed are black or Hispanic women. According to the Center for Disease Control, from 2011-2015, 7 white women per 100,000 had cervical cancer, while 8.4 black women and 9.1 Hispanic women were diagnosed with it. Rodney Wise, M.D., F.A.C.O.G., and market chief medical officer at AmeriHealth Caritas, believes that this disparity is caused by socioeconomic factors such as income, food and housing security, education, and employment. "If a woman is worried about paying her rent and how she is going to feed her family, it is less likely she is going to take preventive steps to ensure optimal health," said Dr. Wise.
Cervical cancer prevention
The U.S. Department of Health and Human Services recommends the following steps to help prevent cervical cancer, which you can share with your patients:
1. Get the HPV vaccine

Girls should get the HPV vaccine starting at age 11 or 12. If your patients didn't get the shots as a child, they may benefit from getting them now up through age 45. Make sure your patients know what their options are.
2. Make sure children get the HPV vaccine

A recent CDC report suggests that HPV vaccination rates for adolescent girls haven't been increasing in recent years, despite clinical recommendations to get vaccinated. Some of the problem may be the stigma around HPV, but Dr. Wise says, "Calling it "the cancer prevention vaccine" removes some of the stigma surrounding giving children shots to prevent an STD." You can encourage your patients to get the HPV vaccine for their children using this language.
3. Get a physical visit every year

Encourage your patients to get physical appointments every year, and to bring questions to their appointments for you to answer.
4. Find out any special instructions before cervical screening tests

Your patients may not know to ask if any special instructions are needed before getting a cervical screening test. Make sure to let them know of any applicable instructions, as a variety of factors can cause an inaccurate test result.
5. Keep up with Pap and/or HPV tests

Pap and HPV tests can help find abnormal cervical cells, or cells infected with HPV. Make sure your patients know to ask for these tests and get them done at the right intervals.
6. Address abnormalities

If either test shows any abnormalities, help your patients figure out a plan to move forward. They may be worried about addressing it and wish to ignore it, or skeptical that their abnormality signals a problem. Encourage them to take the necessary next steps and remind them of the risks of ignoring the abnormalities.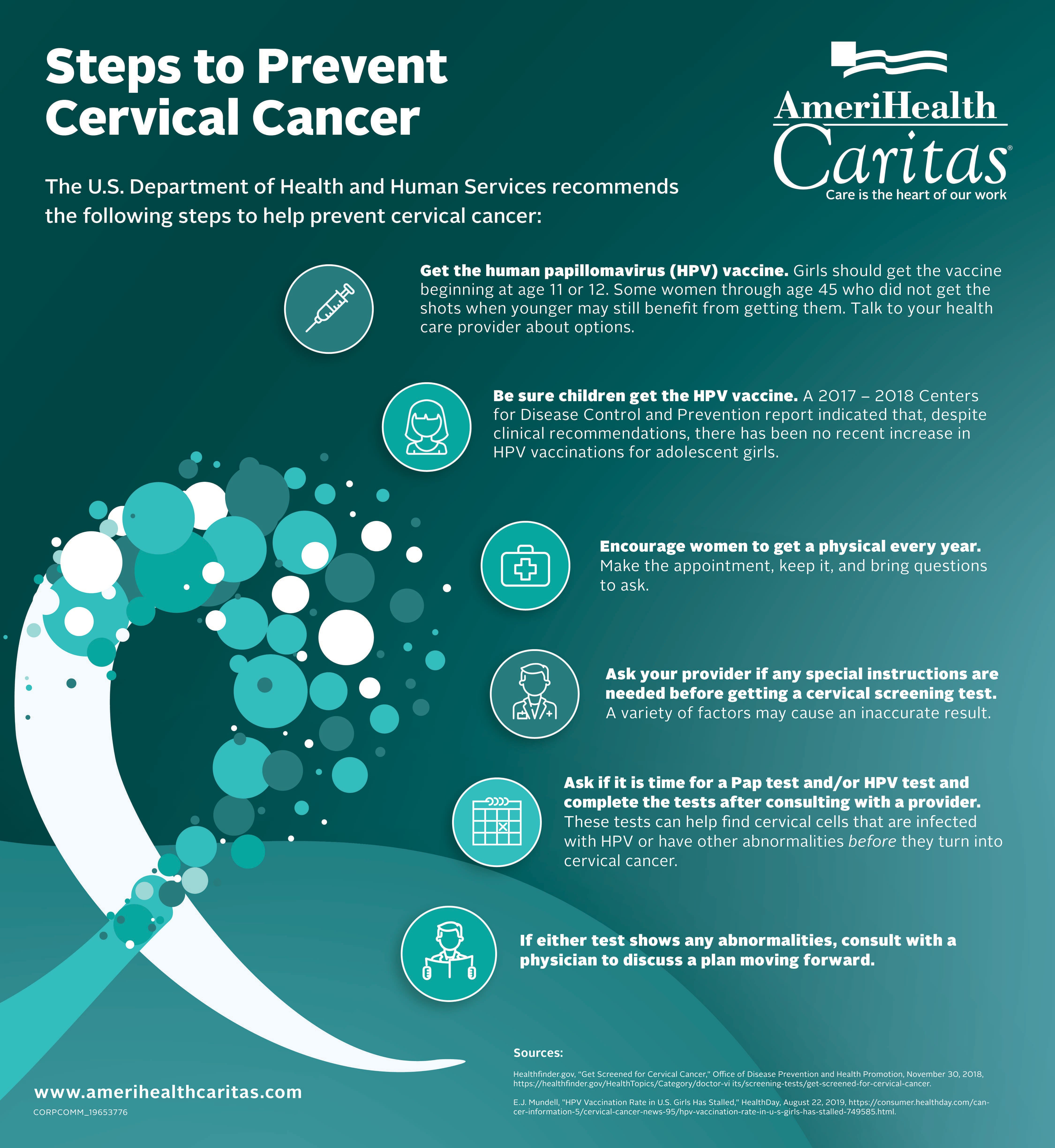 "Steps to Prevent Cervical Cancer" graphic from AmeriHealth Caritas
Further reading
Check out Best Practice's January 2019 cervical cancer awareness blog post for the cervical cancer toolkit from the National Cervical Cancer Coalition.