Here's the latest CDC information on how this flu season is unfolding. Social distancing has helped keep the number of flu infections lower than in previous years, but it's still important for your patients to take precautions.
According to the CDC's Weekly US Influenza Surveillance Report, the flu season is off to a slower-than-usual start. Both this week and last week, 1.5% of health care provider visits were for flu-like illness, lower than the 2.6% national baseline. Healthline posits that the restrictions in place throughout the country have been working to slow the spread of flu as well as COVID-19. However, it's still important for your patients to take steps — including getting their flu shot if they haven't already — to help keep flu infections down.
It's not too late to get a flu shot
According to CDC's Flu Season page, over 183 million doses of flu vaccine have been distributed already. For any patients who haven't been vaccinated, it's not too late. Health.com points out that while it's best to get the vaccine before the end of October, it's still worth getting now. Check out our post about the 2020 flu vaccine for more information.
Two-for-one prevention: stopping COVID and the flu
The good news is that the same guidelines that reduce the spread of COVID-19 also reduce the spread of influenza. The CDC's Healthy Habits to Help Prevent Flu page offers all-too-familiar advice like:
Avoid close contact
Cover your mouth and nose
Avoid touching your face
Stay home when you're sick
Wash your hands
National Handwashing Week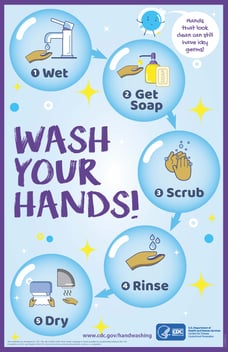 The first full week of December is National Handwashing Awareness Week, making this a great time to reinforce the importance of hand hygiene.
The CDC has a page on When and How to Wash Your Hands, full of information on proper hand-washing, as well as materials for their Life Is Better With Clean Hands campaign.
This campaign offers free printable materials, such as posters and fact sheets.