On April 9, AllWays Health Partners launched a new easy-to-use mobile app for our members. Members now have access to important plan information from anywhere — including your office.
Functions of AllWays Member App
We asked our members what they wanted most in a mobile app and designed it with those features in mind. The app allows members to manage their plan through their phone or tablet instead of logging into the member portal from a desktop computer.
For this initial roll out, our goal was to include all the functions that are most important to members. This includes benefit and cost-sharing information that they can reference during an appointment if necessary.
With the app, members can see:
The member's digital ID card, which they can display at your office if they forget their physical ID card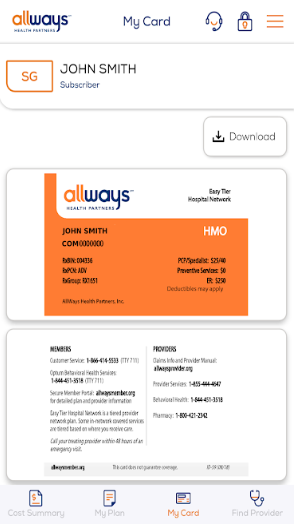 Plan and dependent information
Searchable database of providers, hospitals and urgent care options
Cost sharing information, such as where they are in their deductible or maximum out of pocket balance
Contact information for our Customer Support team
We're already working on additional enhancements and plan to update the app with even more valuable functions in the future.
How can your patients get the AllWays Member App?
Members can download the app for Android and iOS from Google Play and from the Apple App Store. In order to use most of the app's functionality, members must already have a secure account with our member portal. Without it, they'll only be able to access the digital ID card and be directed to set up an account through their mobile browser. Members must be 18 or older to access information through the app, just like the member portal. The guidelines for accessing information through the app are also the same as accessing information through the member portal.
Learn more about the app here.