Since the start of the COVID-19 pandemic, AllWays Health Partners has seen a tremendous increase in the utilization of telehealth services. It's unclear if telehealth will remain popular after COVID-19, but insurance companies are taking notice of the change, including AllWays Health Partners. 17% of our total population has started to receive health care services through this platform compared to 0.02% in 2019.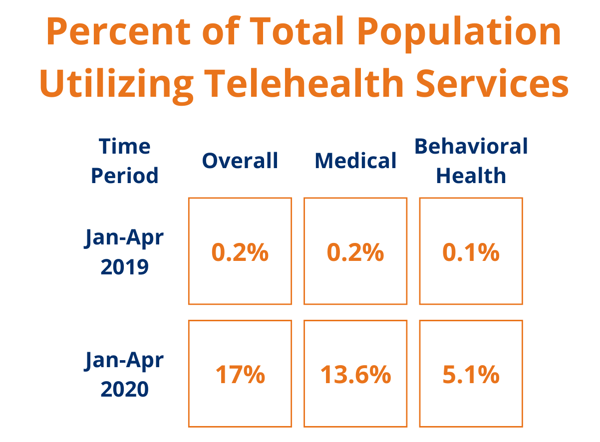 "Percent of Total Population Utilizing Telehealth Services"
Read on to get the full breakdown and learn how we're using this data to give our providers and members a better experience.
How do we use this telehealth information?
In this ever-changing world we live in, there are certain aspects of the health care system that shouldn't change. We're using our telemedicine data to make sure we see the same patterns in our population's utilization to ensure they are comfortable receiving their traditional services in this new medium.
Monitoring for deferment of care

As a company, we are actively analyzing telehealth claims to determine if members with chronic conditions are deferring necessary care and receiving appropriate services. We're using this information to reach out to individuals and encourage the use of telehealth services. In certain situations, our Care Teams are also assisting in the education of how to use telehealth services.
Monitoring for continuity of care

When we see members with Inpatient or Emergency Department utilization, we are now checking to make sure those members are connecting with their regular practitioners afterwards to receive the follow up care they need.
If you're interested in using this kind of information to coordinate care for your own patient population, please contact us at ClinicalData@AllwaysHealth.org.
Observations of telemedicine claims and utilization
We are seeing roughly 10% of medical telehealth utilization attributed to COVID-related diagnoses (suspected or confirmed ICD-10 codes). On claims, it's helpful to have captured the chronic conditions a patient has, as these conditions might put them at greater risk of having a severe case of COVID-19.
We've seen a similar rise in medical and behavioral health utilization, both of which have increased 10,000% for January–April 2020 compared to telehealth utilization in the same months of 2019.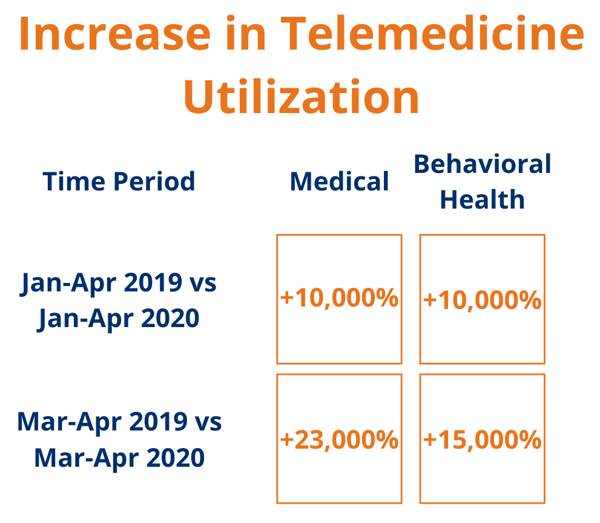 "Increase in Telemedicine Utilization"
We've also been observing overall claim volume of telehealth visits relative to historic data for in-person office visits. It appears that about 90% of overall behavioral health office visits have transitioned to telehealth compared to roughly 30% of medical office visits.
In analyzing the diagnosis codes on telehealth claims, it appears that the codes for members' chronic conditions are not always captured the way they would be on normal in-person office visit claims. This was seen most predominantly when capturing conditions related to diabetes, hypertension, and hyperlipidemia.
In addition, the severity of chronic conditions does not appear to be accurately captured on telehealth claims compared to historic in-person office visit claims. For instance, people who have been diagnosed as diabetics with complications are being captured on telehealth claims as diabetes without complications, despite at times having additional diagnoses codes captured on telehealth claims that indicate their co-morbid complications have not resolved.
Importance of diagnosis capture on telemedicine claims
AllWays Health Partners has many Population Health Programs and services available to assist our members with their medical and behavioral health and social service needs. Our ability to connect with the people in our population who would benefit from these outreach programs is dependent primarily on the claims data we receive. Our internal identification algorithms rely heavily on all claims information, in particular the ICD-10 codes captured on claims. ICD-10 codes are the only method we can to use to determine a patient's medical condition and what specific outreach would be most beneficial for them. You can help us and your patients by capturing all their chronic medical conditions using ICD-10 codes on telehealth claims.
If you aren't using telehealth, now is a great time to get started. AllWays Health Partners partnered with Microsoft Teams to create AllWays on Teams, a virtual visit platform designed to let providers see their patients without risking exposure to COVID-19. AllWays on Teams is free, easy to use, and quick to set up for your practice. For more information and to sign up, visit the AllWays on Teams page on our provider website.