Last week we talked about when a provider might recommend supplementing breast milk with formula. This week we'll focus on introducing solid foods while still breastfeeding and how moms that choose to breastfeed can prepare before a baby is born. Whether you're a provider, parent, or family member of a new parent—continue reading to learn more.
In recognition of National Breastfeeding Month in August, we want expand education for anyone looking to learn more. National Breastfeeding Month is an opportunity to spread awareness while offering insight that answers common questions when it comes to breastfeeding. With input from our medical leadership, below we discuss the process of introducing solid foods to babies and also how new moms that choose breastfeeding can prepare beforehand.
Introducing solid foods as a supplement to breast milk
After six months of breastfeeding, it's time to introduce blended solids like cereals, fruits, and veggies in addition to breast milk—while gradually increasing the baby's diet. If a mom uses formula, that introduction of solids might happen a little sooner, around the 3-4 month mark. But the use of formula or breast milk will continue through the age of 12 months. Typically moms don't start their babies on regular milk until one year of life. When moms introduce solids, the baby still gets most of their calories through breast milk. When moms decide to stop breastfeeding altogether, they can get input from their doctor on the weaning process, where moms decrease the feedings per day. This sends the body a message to stop making prolactin to reduce the amount of milk made gradually.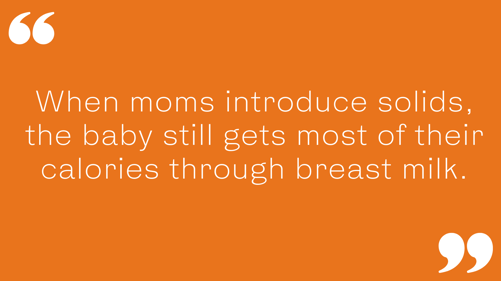 Preparing for breastfeeding before a baby is born
While there are many ways to support breastfeeding postpartum, there are some steps new moms can take before their baby is born. For example, they can set up an appointment with a lactation consultant. This is a great first step to learning more about breastfeeding—while building a relationship with a professional who can provide education and support after a baby is born. New moms can also prepare by getting a breast pump which is covered under most health insurance plans under the Affordable Care Act.
Moms can also find resources on kellymom.com and acog.org such as:
At AllWays Health Partners, in addition to lactation consulting, our members have access to:
Special care management for babies and expecting moms
Childbirth education classes
Breastfeeding classes
Discounts on childcare and safety products
To learn more, visit our member resources. Next week, we'll close out National Breastfeeding Month with laws that protect moms at work and in public.