Did you know that under Massachusetts law, providers can prescribe patients a 12-month supply of birth control? Many providers, patients, and even pharmacies don't know about this option. Hear from our Deputy Chief Medical Officer, Dr. Farah Shafi, MD, to learn about the Massachusetts law that protects birth control access along with the potential benefits to providers and patients.

Massachusetts' contraceptive ACCESS law
2017 was a monumental year for Massachusetts and women's health. With the backing of Planned Parenthood and key legislative officials, this was the year that Government Baker passed the ACCESS law in Massachusetts—which protected women's health care access to affordable copay-free birth control, regardless of any federal rollbacks of protections. Therefore, no matter what happens at the national level, this law is protected in the state of Massachusetts for the long haul. The law also ensures coverage of nearly all birth control, including emergency contraceptives—and allows people to obtain a 12-month supply of birth control. This also applies to members covered under MassHealth.

When we talked to our Deputy Chief Medical Officer, Dr. Farah Shafi, MD, we learned about the barriers women face in getting the coverage awarded to them through this law. Generally speaking, many providers, patients, or pharmacies don't know about the ACCESS law and the option of 12-month prescriptions.
Dr. Shafi explained, "Many of my physician colleagues may not be aware of this law, and many patients are unaware that they can get the full 12 months dispensed. If they've been using the contraception for a while and are medically stable, they should have access to a full year of coverage". This law has been in place for more than three years, so challenging the lack of awareness is critical to providing more women with access to the medication they need. This starts with provider knowledge that can extend to patient awareness—and pharmacy awareness.
Seventy percent of women receive a supply of contraceptive pills for three months or less, while only 15% receive a supply of more than six months, according to the Henry J. Kaiser Foundation. But research shows that providing patients with a 12-month supply of contraceptives delivers benefits to both women and the healthcare system, like preventing unwanted pregnancy and lowering healthcare costs.
Health benefits and cost-savings
The University of Pittsburgh and the U.S. Department of Veterans Affairs (VA) published a study in JAMA Internal Medicine that used a mathematical model based on existing data from the VA Health System. Researchers determined that "giving its patients a year's worth of birth control pills all at once would save the agency $90 per woman per year, a $2 million total savings, and prevent an estimated 583 unintended pregnancies annually."
The data shows a longer supply of birth control can impact women's health outcomes overall as well as their autonomy. Another study found women who receive a 12-month supply of contraceptives were less likely to have a pregnancy with a 30% less chance of conceiving an unplanned pregnancy—and a 46% decrease in the odds of having an abortion.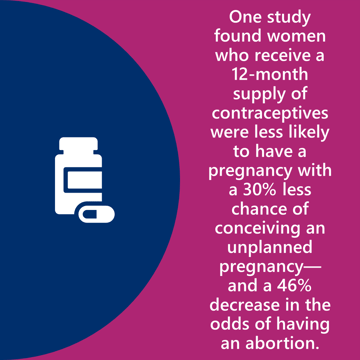 Dr. Shafi agrees with the data. "Eliminating the barriers to access to contraceptive coverage will help to decrease unplanned pregnancies. For patients using birth control pills or contraceptive rings, they'll often have to go into the pharmacy once a month or every three months—which is a barrier from a patient convenience standpoint."
Patients that benefit from a 12-month supply
Dr. Shafi mentioned that most providers and family planning experts would advocate for long-acting reversible contraception (LARC), such as implants or IUDs, as a better method for contraception. But some women are not candidates for LARC or have a preference towards oral contraceptive pills or rings. She added, "If we can increase the amount of these medications that women can get at one time, we can eliminate that barrier to their access." Dr. Shafi confirmed that she has seen a positive impact from the people that have utilized the 12-month contraceptive option. But there are still some people who might be concerned about whether it's appropriate or not to prescribe someone a 12-month supply of medication. Dr. Shafi added the caveat that this option is probably not ideal for all patients. In the beginning, it takes time for doctors to analyze patients' toleration and potential side effects before prescribing something long-term. The ideal candidate that will benefit most from a 12-month supply of birth control is someone who has been on their medication for a period of time and demonstrates they are medically stable. That's where the provider comes in to educate patients on their options.
The ACCESS law's primary intent was to ensure Massachusetts residents continue to have access to affordable birth control. This provision of the law that allows for a 12 month supply offers women greater convenience and control over family planning. Dr. Shafi concluded, "Contraception is an essential component of preventative health."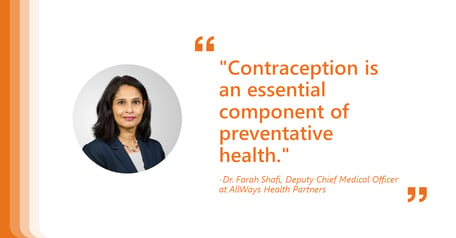 To share even more with your patients about overall health and wellness, download our free eBook.