In recognition of National Customer Service Week, we want to take this momentous opportunity to celebrate the critical work of our customer service team. Every day they educate and support our members through care and coverage. This week, get to know just one of our incredible customer service representatives, Grace VanDyck. When we asked Grace what makes a good customer service professional, she humbly responded, "empathy and a good listener." Continue reading for the full interview.
Tell me about your career journey and what led you to AllWays Health Partners?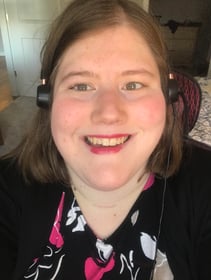 When I graduated from Dean College with my BA in communications, I got a part-time job at Mass Eye and Ear in the patient relations department. I enjoyed documenting compliments and complaints in the hospital—and greeting patients and their families. After this position, I was able to apply and get my most recent position as a Customer Service Representative at AllWays Health Partners.
As a customer service professional, I was really excited about this new role. I'm passionate about helping people and making sure they get the services and treatment they need.
What is your favorite part about working at AllWays Health Partners?
My favorite part of work is getting to interact with our members; it's great to help customers resolve issues that arise. I like knowing that I've done my best work to help our members and ensure they get the services and support they need.
I find the prior authorizations most interesting. I get to see what our members need for authorizations, such as an injection or an MRI. I like studying the codes, figuring out what they need, and also interacting with providers.
Can you tell me about what your day-to-day role responsibilities entail at AllWays Health Partners?
I work in the call center, taking calls from our members and fellow employees of Mass General Brigham. I help with everything from primary care changes—all the way to billing questions and claims explanations, resolving any issues or errors. I also help them with benefit questions. So, if someone calls asking if a service is covered or what kind of benefits they have under their plan—I jump in and assist.
What is the biggest lesson you have taken away from this past year?
One of the biggest lessons I've taken away from the past year is the importance of having good health care and insurance, especially during a pandemic. I think we've all learned how important it is to prioritize your health and how that is supported by good health care coverage.
What are some common questions members ask you about their health care plan?
Some of the most common questions I get asked are about a bill someone received. Typically I'll explain the deductible or co-payment associated with that bill due to their plan. I also receive several questions around primary care changes and, more recently—COVID-19 coverage, including testing and vaccination information.
In a typical scenario, I guide our members to our online member portal—which answers many benefit-related questions and reimbursements; it's a one-stop-shop for most information on the insurance plan. Other times, I'll email a member directly a summary of their benefits. I provide as much information as possible during the call so that they don't have a reason to call back.
What are a few common medical terms members ask you to define?
I get asked a lot about deductibles, co-payments, and co-insurance; those are the main three.
A deductible is a set dollar amount on a member's plan that they have to reach before we start to cover additional services.
A co-payment or co-pay is a set dollar amount for a covered service that a member pays for. For example, an in-office visit might have a $25 co-pay according to the plan.
Co-insurance is a fixed rate or percentage of your shared costs after a deductible is met. For example, if a member has a 20% co-insurance on their medical equipment, in this situation, we would cover 80%, and they would have to pay 20% of medical equipment.
What's the difference between in-network vs. out-of-network services?
In-network services are done with providers contracted with us—whereas out-of-network services are from providers not contracted with us. Some plans offer coverage for out-of-network services, like a PPO plan. But others, like an HMO plan, don't provide out-of-network services unless it's for emergency or urgent care services.
Why is customer service so important in the health insurance industry?
Customer service is critical in our industry because health insurance is so complex. Many people have questions about their plan or health insurance in general, so it's helpful to have customer service professionals available to take the necessary time to explain these things to our members. I believe it's crucial never to rush a member or brush off a question because all questions are valid and legitimate. Customer service professionals are here to help our members by ensuring questions are answered and explained correctly.
What do you think makes a good customer service professional?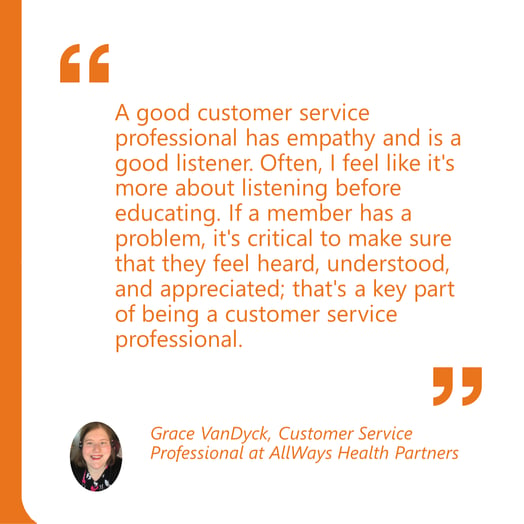 What are some of the benefits our members get from the AllWays Health Partners member app?
The AllWays Health Partners member mobile app lets our members see which providers are in-network and out-of-network. Our mobile app also features a comparison chart where a member can see the individual versus family deductibles and the out-of-pocket maximum for individual and family. It's a great tool to get to know your plan and find general or specialty providers.
What makes AllWays Health Partners different from other health plans?
AllWays Health Partners stands out because we provide excellent coverage to our members and give exceptional customer service. The work I do each day makes me proud to be an AllWays Health Partners employee. I enjoy supporting our members and resolving complex issues that come up. Just being able to say I helped a member and was part of the process of working alongside a great team of fellow employees makes me proud.
We're hiring! If you're interested in becoming a customer service representative like Grace, check out our openings here: allwayshealthpartners.org/careers