According to the AMA Journal of Ethics, physicians must uphold ethical responsibilities not to discriminate against a prospective patient on the basis of race, gender, sexual orientation or gender identity, or other personal or social characteristics that are not clinically relevant to the individual's care. That's why an equitable healthcare system requires diversity and inclusion to deliver the best patient care possible.

Diversity
Discrimination in the U.S. healthcare system leads to healthcare inequities that fuel oppression. A 2017 study in the journal Critical Public Health noted that health care inequities exist for Black women across socioeconomic statuses. The research notes that Black women have to work that much harder to fight against normalized stereotypes during interactions with their doctors. This aligns with one study that found that white adults without medical training endorse beliefs about biological differences between Black and white individuals, many of which are false.
This especially impacts women of color. According to the CDC, "Black, American Indian, and Alaska Native (AI/AN) women are two to three times more likely to die from pregnancy-related causes than white women – and this disparity increases with age." This statistic is especially startling as the CDC also claims that about 3 in 5 pregnancy-related deaths could be prevented. Another report found that delays in follow-up care result in higher mortality rates after a breast cancer diagnosis.
So why are Black women at a higher risk for pregnancy complications? According to the University of Chicago Medicine, the answer is systemic racism. Racism blocks Black women from access to quality healthcare which puts them at a higher risk of pregnancy complications. In the U.S., maternal complications and death are caused by heart disease, infection, embolism, and hemorrhage. Although these are all treatable, they become life-or-death illnesses when bias blocks Black women from quality healthcare resources—and even testing.
A 2016 Journal of Clinical Oncology study found that black women, regardless of their risk level, are less likely than white women to undergo genetic testing—in large part because physicians are less likely to recommend it to them. This is a result of the lack of diversity within the healthcare system. According to the Association of American Medical Colleges, of all active physicians—only 5 percent are Black—and only 2 percent are Black women. For added perspective, 13.4 percent of the U.S. population is Black.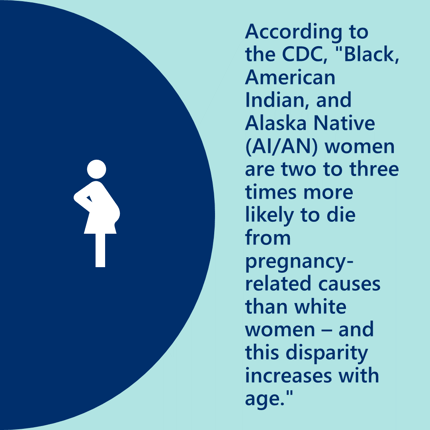 As a healthcare professional, you can take several proactive steps to change these dire statistics. You can reevaluate biases you may be making without cognizance. You can speak out where you see racism in the workplace. You can listen to Black patients and moms. You can ensure your offering Black women the full spectrum of care and throwing away all stereotypes. If you're unsure where to start, learn more about SPEAK UP Champions and their mission to expand the use of quality improvement to eliminate preventable perinatal morbidity and mortality and ensure equity in perinatal outcomes.
You can also find more information on United Against Racism, Mass General Brigham's systemwide plan for becoming an anti-racist organization, plus how the White House administration is addressing maternal mortality and morbidity.
Equity
The Civil Rights Act banned discrimination on the basis of race, color, religion, and national origin. The Equality Act was reintroduced to amend the 1964 Civil Rights Act to prevent discrimination based on sexual orientation and gender identity. This bill prohibits discrimination based on sex, sexual orientation, and gender identity in areas including public accommodations and facilities, education, federal funding, employment, housing, credit, and the jury system. Specifically, the bill defines and includes sex, sexual orientation, and gender identity among the prohibited categories of discrimination or segregation.
Right now, the United States has 27 states with no explicit statewide laws that protect people from discrimination based on sexual orientation or gender identity in employment, housing, and public accommodations. At AllWays Health Partners, we support all members of the Lesbian, Gay, Bisexual, Transgender, Queer, Intersex, and Asexual (LGBTQIA+) community and their healthcare rights. Providers can find several education resources on Optum, including their education program that teaches healthcare professionals about the unique health care needs and disparities experienced by the LGBTQIA+ community. Optum also created PRIDE365+ which offers resources to educate and support LGBTQIA+ community members and allies in creating open, safe, and respectful working and living environments.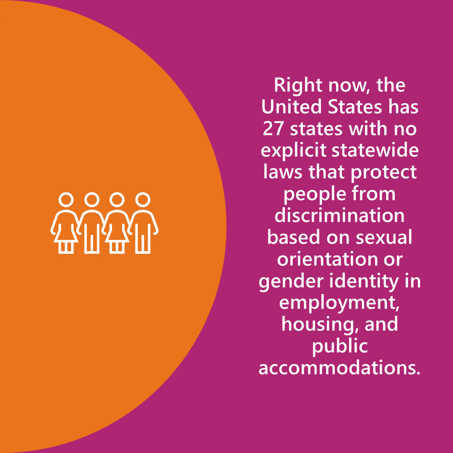 Inclusion
When providing care that's inclusive to individuals with disabilities, your practice must have the accommodations in place to meet your patients' needs. For example, a person that has mobility issues requires an environment that supports wheelchair or mobility aid accessibility. A sign language interpreter could help patients with auditory disabilities—whereas a magnified font on patient forms or an audio version could help someone with vision impairment or loss. Another way to be inclusive is to observe patient care delivery in the field and work to find solutions when you see an opportunity, like Dr. Broder-Fingert. She used her experience at Mass General Hospital for Children to create the customizable Autism Care Questionnaire: a patient file document that discloses sensory sensitivities, safety issues, anxiety triggers, and dietary needs.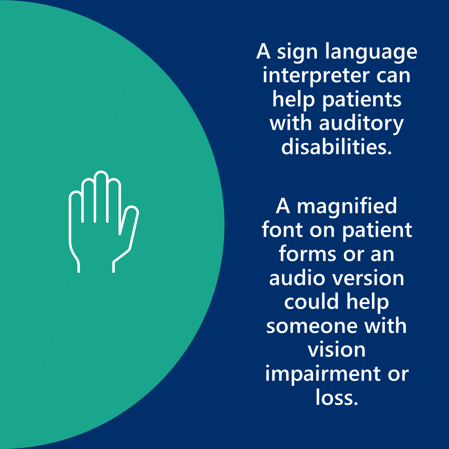 To learn more about how to implement DEI initiatives, read "Tips for providers to ensure culturally sensitive patient care."
For a fresh perspective on the 8 dimensions of health and wellness, download our free eBook.