In the past few months, we've created a few new resources to help brokers and employers choose which health plan to offer or make the most of their current plan. From plan comparisons to health literacy, these resources are designed to make health insurance easier to understand and access.
Choosing the right plan
Small group health plan comparison chart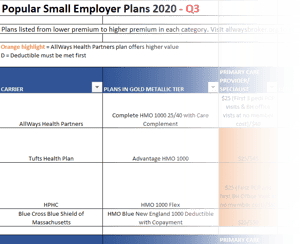 If you're a benefits advisor looking for the best way to see how small group health plans in Massachusetts stack up, our plan comparison chart can help. It includes information about plan benefits to help you easily weigh the pros and cons of premiums, networks, and cost sharing.
We first published this chart last fall, and now have a brand-new update containing Q3 2020 plan information. Grab a copy now and start comparing plans.
Get the download: Health plan comparison Q3 2020
Learn more about this chart: Let's compare the top small group health plans in Massachusetts
Annual health plan renewal guide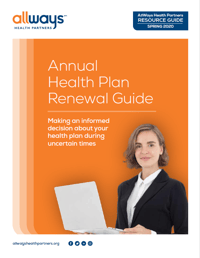 There's a lot to think about going into an annual health plan renewal. To help make this planning process easier and more straightforward for employers, we created a resource that will walk through some important considerations ahead of this decision.
The guide contains a checklist of information to share with their benefits advisor, a survey for their employees, and tips on how to get the most out of their health care coverage.
Download the guide: Annual Health Plan Renewal Guide
Learn about the guide: How to choose a health insurance plan for your business
Helping employees get the most from their health plan
Health insurance literacy guide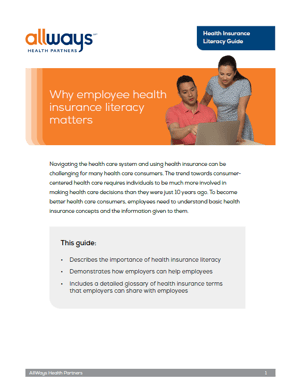 Health insurance terms, acronyms, and lingo can be confusing for members. But, understanding the ins and outs of health insurance is crucial to effectively accessing health care services and making the most of one's health coverage.
This guide explains the importance of health insurance literacy and includes a glossary of common health insurance terms. Consider sharing this valuable resource with employees to help them navigate the complexity of health insurance and improve their understanding of their health plan.
Get the download: Health Insurance Literacy Guide
Preview the guide: "Why employee health insurance literacy matters"
Urgent vs emergency care infographic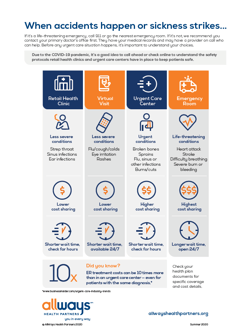 Because it's not always easy to understand what health situations call for what type of care, we created an easy-to-share infographic that explains the differences between each option. This is especially important during COVID-19, when some people may feel hesitant to seek out urgent or emergency care. But, it's a good idea to call ahead or check online to understand the safety protocols these facilities may have in place around COVID-19.
View and download the infographic: "Urgent vs. emergency: Understanding your options for care"
Top blog posts
If you're new to AllWays Insider or just looking for a way to catch up, we also wanted to share some of our top blog posts from the past few months. Check out these great articles for helpful health insurance info and tips for navigating the stress and challenges of the COVID-19 pandemic.