Planning and preparing for open enrollment can be a time-consuming process. To help, we created an at-a-glance timeline highlighting the most important steps. Read the text version in this blog, then download the PDF to save or share with other HR decision-makers responsible for open enrollment planning.
Download your timeline now to make sure you're on track for your next open enrollment period.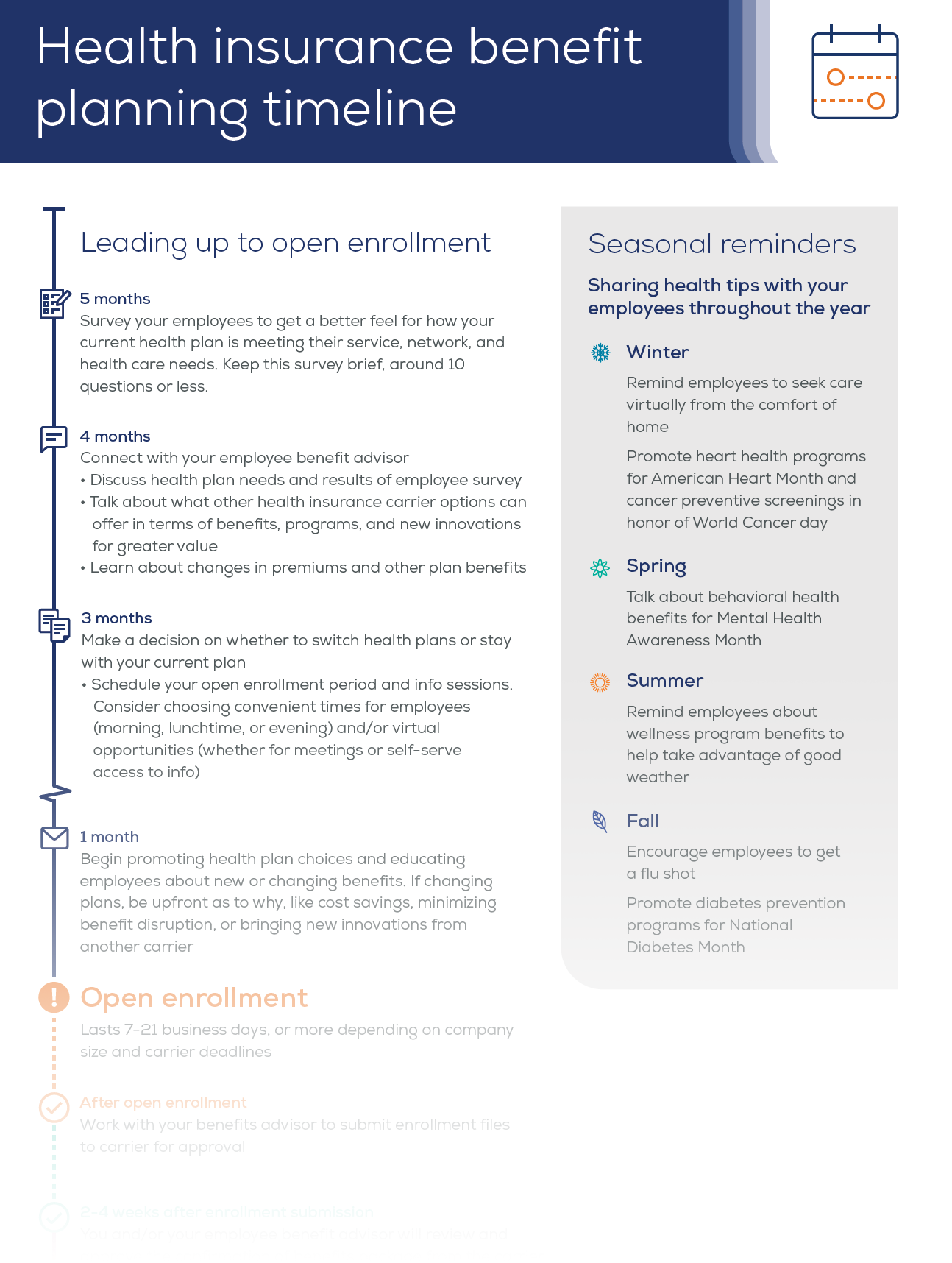 ---
Health insurance benefit planning timeline
Leading up to open enrollment
5 months:
Survey your employees to get a better feel for how your current health plan is meeting their service, network, and health care needs. Keep this survey brief, around 10 questions or less.
4 months:
Connect with your employee benefit advisor
Discuss health plan needs and results of employee survey
Talk about what other health insurance carrier options can offer in terms of benefits, programs, and new innovations for greater value
Learn about changes in premiums and other plan benefits
3 months:
Make a decision on whether to switch health plans or stay with your current plan.
Schedule your open enrollment period and info sessions.
Consider choosing convenient times for employees (morning, lunchtime, or evening) and/or virtual opportunities (whether for meetings or self-serve access to info)
1 month:
Begin promoting health plan choices and educating employees about new or changing benefits. If changing plans, be upfront as to why, like cost savings, minimizing benefit disruption, or bringing new innovations from another carrier
Open enrollment
Lasts 7-21 business days, or more depending on company size and carrier deadlines.
After open enrollment:
Work with your benefits advisor to submit enrollment files to carrier for approval.
2-4 weeks after enrollment submission:
You and/or your employee benefit advisor will review and approve the confirmation of benefits package from the carrier.
Outside of open enrollment
Onboard new hires and employees/dependents with qualifying life events.
Once employees are enrolled, share periodic reminders about the benefits and perks of their health plan, including any care management programs, wellness platforms, member apps they have access to.
Check in with your employee benefit advisor or health plan carrier every few months to learn about any new programs you can promote.
Seasonal reminders
Sharing health tips with your employees throughout the year.
Winter
Remind employees to seek care virtually from the comfort of home.
Promote heart health programs for American Heart Month and
cancer preventive screenings in honor of World Cancer day.
Spring
Talk about behavioral health benefits for Mental Health Awareness Month.
Summer
Remind employees about wellness program benefits to help take advantage of good weather.
Fall
Encourage employees to get a flu shot.
Promote diabetes prevention programs for National Diabetes Month.