As we enter the 2020 holiday season, we're all coping with new levels of mental and emotional stress and changes to our level of physical activity compared to pre-pandemic. For many of us, social distancing and continued measures to help control the spread of the virus will alter our holiday traditions. But thanks to online shopping and home delivery, gift giving will perhaps be even more important as a way of connecting with family, friends and coworkers. And what better way to say you care than a gift that promotes healthy living?
There's no shortage of gift ideas available online that contribute to our emotional and physical wellbeing. We've put a list of gifts into a few wellness-focused categories that also includes ideas that are both affordable and easy to ship.
Ergonomic home office
When employees started working from home last March, many assumed it was short-term and made do with whatever chair, desk or computer accessories they already had at home.
Now nine months later, the sedentary nature of desk work for eight plus hours a day may be taking its toll. Lower back, stiff neck, aching wrists, headache, and eye strain are all too common ailments these days in a work setting that lacks ergonomic support.
Staying pain-free requires a workstation set up in the right way to reduce pressure on your body throughout the day. The good news is that that high- quality ergonomic home office equipment is available online as perfect gifts your friends and family who are working remotely.
Office chair & accessories
An ergonomic office chair can make a world of difference in the day to day comfort of your gift recipient. Look for one that features adjustable seat height and arm/head rests so they can sit at the right level for their height and the desk they're working at.
If their office chair doesn't already have it, a lumbar support pillow can be a great gift. These pillows encourage an S-shaped curve in the spine to reduce pressure on the back, neck and shoulders.
While having feet flat on the ground is ideal, a footrest is another great option to help shorter people achieve the same optimal ergonomics positioning shown below.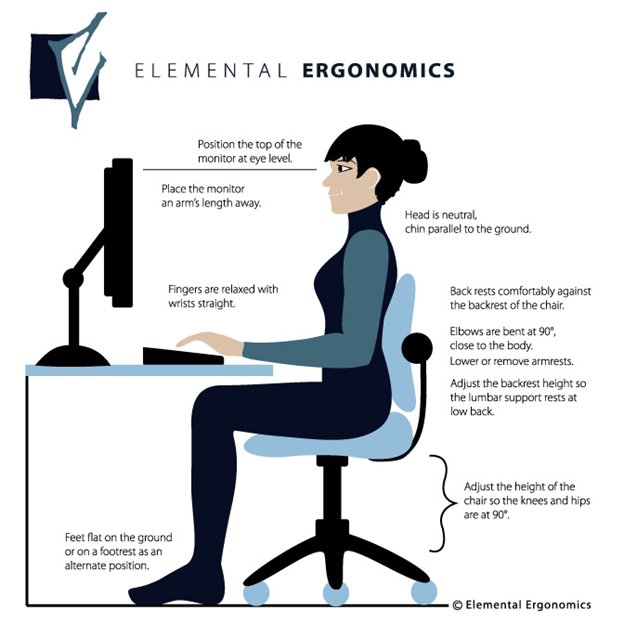 SOURCE: https://elementalergonomics.files.wordpress.com/2014/01/elemental-ergonomics-graphic-use-this.jpg
Monitor arm & laptop stand
When working on a computer all day, the screen of a monitor or laptop should be positioned at a height that allows you to look straight ahead. Looking down puts the neck and spine out of alignment, adding pressure on the neck, shoulders and upper back that leads to pain. Help your friends and family get around this issue with these fixes:
An adjustable monitor arm attaches to a desk and lets you to change the height and angle of your monitor to get it into the ideal position. It's quite versatile, allowing you to move your monitor forward, backward, and tilted up or down.
A laptop stand lets you to raise your laptop screen to eye level while you use a separate keyboard. Positioning the top of laptop 2 or 3 inches above your natural eye level encourages good posture to keep the spine in alignment.
Ergonomic keyboard & vertical mouse
Another cause of pain and injury comes from performing small but repetitive movements that cause strain injuries, such as carpal tunnel syndrome. Two of the biggest culprits are the keyboard and mouse. Most position our hands, elbows and arms at an unnatural angle.
An ergonomic keyboard has a unique shape and contours that position the user's hand and fingers in a relaxed state when typing, greatly reducing the strain on joints and tissues. And the low-force keys are easier on the fingers.
A vertical mouse keeps your hand at an optimal 57% angle, which prevents the forearm from twisting. This position keeps the wrist comfortable and relaxed.
Quality sleep
The COVID-19 pandemic has disrupted our normal routines, including our sleep cycles. While an exhausted morning can certainly be debilitating, the long-term effects of sleep deprivation can wreak havoc on your health. If you know someone that doesn't sleep enough, a great gift idea is one that helps them get a restful night.
Weighted blanket
Weighted blankets are are weighed down with glass or polyester beads sewn into pockets throughout the fabric. Using the concept of deep touch pressure, they provide gentle compression across the entire body, which relaxes the nervous system, reduces feelings of anxiety, and creates a sense of security, which in turn improves the quality of sleep.
The benefits of a weighted blanket include:
Alleviates anxiety-induced sleep problems: Deep touch pressure helps stimulate the production of serotonin and dopamine, which are known to have a calming and relaxing effect.
Regulates the sleep cycle: Weighted blankets trigger the production of melatonin, a hormone that promotes the onset of sleep and regulates the sleep cycle (also known as circadian rhythm).
Mimics a hug: We often feel good when close family members and friends give us a hug because they encourage the body to release oxytocin, a hormone foundto reduce blood pressure and slow heart rate. In times of social distancing, a weighted blanket is a welcome substitute when hugs are harder to come by.
.
White noise machine
White noise machines drown out environmental sounds that can disturb your sleep, such as snoring, conversations in the next room, noisy neighbors, barking dogs, and passing cars. They create a blanket of sound that's calming, consistent, and pleasing to the ear. Many models provide a variety of sounds to choose from as well as timers and volume adjustment.
The benefits of a white noise machine include:
Faster onset of sleep: White noise acts as a catalyst that moves you through the stages of sleep more quickly to arrive at the healthy deeper levels of REM sleep.
Uninterrupted sleep: White noise also helps prevent sudden noises during the night from surprising and waking a light sleeper.
Distraction: A completely quiet room may also cause problems for sensitive sleepers who stay alert, listening for any trace of sound. The sound of white noise gives the mind something to focus on without the attention created by music or words.
.
Healthy eating
Working from home means easy access to the fridge, the kitchen cabinets, and the microwave—all at your disposal whenever you want. Not to mention the ease of home pizza delivery. Many of us have noticed expanding waist lines caused by an excess of fat and carbs in our daily diet. The following gift ideas help support good nutrition during the cold months when we often crave comfort foods.
Air fryer
Air fryers are convection heat ovens about the size of a coffeemaker that simulate the taste and texture of food deep fried in oil. Air heated up to 400 degrees F circulates around food placed in a removable basket, creating a crisp coating while maintaining a soft interior—without the grease—which drops into a catch at the bottom.
The benefits of an air fryer include:
Less fat: An air fryer uses up to 85% less oil than traditionally deep-fried foods while still providing that delicious comfort food taste.

Less calories: Since fat has more calories than protein or carbs, cutting it out also cuts calories and reduces weight gain.

Less risk of disease: Research links food deep fried in oil with health problems such as heart disease and type-2 diabetes.
.
Spiralizer
During the colder winter months, we often turn more toward comfort foods than to vegetables. But veggies are essential to maintaining a healthy immune system. Enter the spiralizer-- an inexpensive kitchen gadget that easily turns zucchini, squash, and carrots into ribbons. Since spiralized veggies have a texture and consistency similar to noodles, your tastebuds will be fooled that you're eating pasta.
The benefits of a spiralizer include:
More vegetables in your diet: By spiralizing, you're naturally eating more vegetables and fiber – without even noticing or sacrificing flavor (especially when they're covered in your favorite sauce). This small shift in the way you eat helps lead to weight loss, because you're consuming less carbs while still remaining satisfied.

Fewer calories, more fiber: Check out the difference between 1 cup of cooked spaghetti (220 calories)(2.5 grams of fiber) and 1 cup of zucchini noodles (20 calories) (4 grams of fiber).

Time saver: Veggie noodles are thoroughly cooked in less time than it takes to boil water. The shorter cook time also means more nutrients stay in your food.
.
Subscription to a CSA Program
Community Supported Agriculture (CSA) is a food production and distribution system that directly connects farmers and consumers. You can buy a "share" as a gift, which means your gift recipient will receive a weekly or monthly delivery of a portion of a local farmer's harvest. In general, the farmer chooses what produce goes in the share, although some CSA programs operate "market-style" by allowing members to choose their own items. Even in New England you may find winter shares or be able to purchase ahead for friends and family to redeem starting in the spring. You can find a CSA program in your community at LocalHarvest.org.
The benefits of CSA include:
More nutrients: Fruits and vegetables are the most nutrient dense shortly after harvest as compared to when produce is shipped thousands of miles before it arrives at your grocery store, where it can sit in bins for days. CSA farmers typically harvest the produce the day you receive it.

Chemical-free: Most farms that participate in a CSA are organic, meaning their produce is non-GMO and free of harmful pesticides and herbicides.

Better taste: CSA farms allow produce to ripen before harvesting so you get the best-tasting produce possible.
.
Resistance exercise
With some gyms still closed and many people not yet comfortable going back a fitness center, some people no longer have access to a full set of free weights or strength training machines and circuits. This kind of equipment is not only expensive on the retail market, but it also takes up a lot of space, so is usually not an option for home use.
Resistance training is a good alternative, as resistance equipment is inexpensive and mobile. Best of all, it is proven to increase strength, enhance bone health, maintain muscle tissue, control body fat, and improve flexibility. Here are some effective and affordable resistance tools for the fitness buffs on your gift list.
Weighted jump rope
A weighted jump rope is a great way to mix up your exercise routine without taking up a lot of space. The rope's added weight helps improve coordination, agility, and endurance. The best are designed with even weight distribution throughout the rope to create full-body resistance, resulting in a more challenging workout. Lighter ropes (1-2 pounds) are good for speed during high-intensity cardio workouts. Heavier ropes (2 pounds and up) are better suited for strength-building and muscle-conditioning.
The benefits of a weighted jump rope include:
Build muscle, burn fat: Weighted ropes are more effective at building lean muscle and reducing body fat than regular ropes because it takes more energy to use them.

More muscle engagement: Jumping with a regular rope works the shoulders, lower back, glutes, and hamstrings. A heavy rope will work all of the above plus the triceps, forearms, and the rest of the back muscles.

Training versatility – Using several ropes of different weights lets you adjust the intensity of your workout as you see fit.
.
Ankle weights
Ankle weights are weighted bands that you slip onto your shins or ankles. Because they add load to exercises where you elevate your leg, you can make cardio training more challenging at the same time you tone your thighs, quadriceps, hamstrings and calves. Ankle weights usually weigh between 1 and 10 pounds, the perfect range for adding resistance to your routine without bulking up.
The benefits of ankle weights include:
Boost Endurance: Adding additional weight forces your body to exert more force than you're used to, eventually building up overall stamina. Using the weights while running causes higher energy expenditure, which in turn improves cardiovascular health.

Burn Calories: Research shows that exercising with ankle weights can help you burn extra calories and offer you better weight loss results. For the same reason, fitness trainers recommend wearing ankle weights during your daily routine – such as running errands or completing house chores.

Increase Workout Versatility: You can use ankle weights for different types of exercises, including running, walking, and swimming. Ankle weights are also an excellent tool to bring versatility to stationary exercises – such as planks and leg raises.
.
Resistance
b

ands

Resistance bands are elastics either flat or tubular in shape that can be used as a substitute for free weights. They come in different color-coded resistance levels—typically, the lighter the color, the lighter the resistance. Quite versatile, depending on color and shape, resistance bands can be used for stretching, strength training and muscle toning. They're also very reasonably priced.

The benefits of resistance bands include:
Inexpensive: When compared to treadmills or exercise bikes, resistance bands are an economical method for getting fit.

Portable: Resistance bands are easy to carry around and can be used anywhere.

Comprehensive: With a single resistance band, you can train every part of the body. And you can also incorporate different types of resistance bands to add progression to your workouts.
.
Subscriptions and donations
If you're unsure about purchasing and sending a specific item for delivery, consider a gift card or subscription: you can use them for online yoga exercise classes, a sports and fitness retailer, a healthy cooking website subscription, meal delivery services, and much more.
You might also consider donating to a charity on behalf of your gift recipient. With so many people in need, a charitable donation to a local food pantry, shelter, behavioral health group, or other important cause could be a meaningful gesture this holiday season.
---
Hopefully these gift ideas sparked some ideas for you, but there are plenty more wellness-focused products out there that can help your loved ones live healthier, more comfortable lives. When in doubt, try thinking about specific problems they may have mentioned and using that as a starting point for your gift-giving search. Whatever you choose, giving the gift of health is always a smart, thoughtful idea.