January 20, 2020 marks the 25th anniversary of the day Congress designated Martin Luther King Jr. Day as a national day of service. This holiday, often called a "a day on, not a day off," encourages all Americans to volunteer to improve their communities. This holiday means that January is a great time to start an employee volunteer program (EVP). These initiatives aren't just good for local charity organizations—they also have real benefits to workplace wellness, including increases in productivity and decreases in absenteeism.
Here are some reasons why employee volunteer programs are worth the effort, and ways businesses can improve workplace engagement through employer-endorsed volunteering efforts.
Stats that support the value of volunteering
Deloitte's 2017 Volunteerism Survey revealed that creating a culture of volunteerism can boost morale and improve the overall working environment. In fact, of the working Americans who volunteered in the last 12 months and took part in the survey:
89% believe that companies who sponsor volunteer activities offer a better overall working environment than those who do not.
74% think volunteerism provides an improved sense of purpose.
Similarly, research from Project Helping indicates that:
76% of people who volunteer say that volunteering has made them feel healthier.
94% of people who volunteer say that volunteering improves their mood.
96% of people say that volunteering enriches their sense of purpose.
Workplace giving and volunteer programs also can help with employee retention. According to a survey of nearly 1,600 U.S. employees by America's Charities, more than 70% of employees said it was imperative or very important to work for an employer whose mission and values align with their own. Building effective workplace giving and volunteering programs is a great way to act on the values of compassion and kindness that so many businesses boast.
When an employer supports or initiates volunteering, it can strengthen employee engagement, wellness, and even retention. Happier, healthier employees are often more productive overall.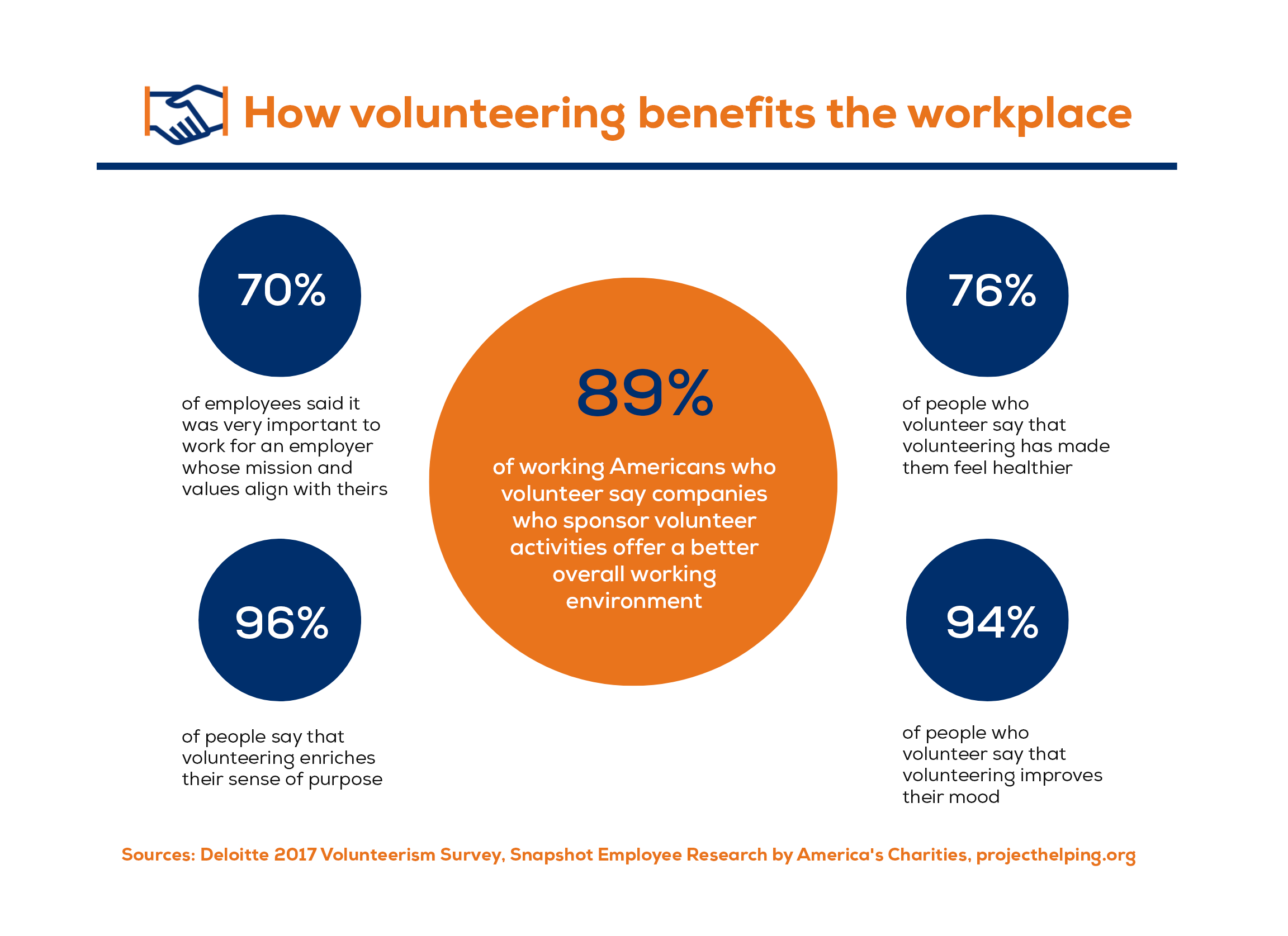 Big or small volunteering efforts – it's all good, for the greater good
With benefits like improved moods and feeling healthier, it's easy to see why more and more companies are promoting volunteering through employer-endorsed activities.
While many large companies have elaborate and structured programs in place to promote volunteer days for individuals and work teams, it's possible to use these programs as examples. The good news about promoting volunteering in the workplace is that it can be scalable.
For example, Forbes.com highlighted some inspirational examples of EVPs from large, national companies. This included the 56 hours (7 days) of paid volunteer hours that Salesforce provides, and programs by TD Ameritrade and State Farm that make getting involved easy. Using these initiatives and others as inspiration, here are four ways that businesses of any size can promote volunteering to improve their workplace wellness.
1. Team volunteer work day (or even half-day)
Volunteering as a team – whether one department or an entire organization – can be an effective way to inspire and help unify a group of coworkers. First, employers need to recognize what kind of volunteer options are realistic for their business and find a local organization in need.
Consider if a team can be off-site or must remain at the workplace. There are advantages to leaving the workplace to do volunteering, as a change of scenery can energize, especially if in direct contact with the non-profit. For instance, activities may include cleaning up a park, painting a shelter, or helping at a local animal shelter. But if that's not feasible, employees can still help from within a workplace. A team can set aside an afternoon to do an on-premise work-site activity, like writing cards to military troops overseas or patients at a children's hospital.
If an employer isn't sure how to choose a worthy organization to support, some options include:
Finding an organization that helps match people or companies with volunteer organizations, like volunteermatch.org
Choosing a non-profit that has special meaning, like a possible client or an organization with which a colleague or customer has a connection
Employers should consider asking staff about their preferences for supporting organizations in need. So many people volunteer their own personal time that there may be options easily accessible.
2. Paid individual volunteer time
Consider implementing a paid individual volunteer time program. This could be just four to eight hours a year after one year of employment, or prorated time based on hours worked per year. Businesses need to establish the rules based on what is doable for them. But, giving employees a certain amount of time off to volunteer at a personally meaningful organization helps not just the non-profit but employers as well. Employees will return to work feeling refreshed and fulfilled after time well spent, knowing that they are appreciated by their employer.
3. Support a local organization in need at work
Whether one sets up a box to collect canned goods for a local food pantry, old blankets and pillows for an animal shelter, or new or gently used coats for a winter coat drive, there are so many ways employees in the workplace can affordably and easily donate. Arrangements like this can also make it easier if someone isn't able to contribute, as drop-off boxes are usually anonymous and don't put pressure on people to participate if they can't.
The American Red Cross is another organization always looking for donations. Perhaps your company could host a blood drive?
4. Box up unneeded "extras" and donate them
Sometimes a company might have too many notepads with an old address or logo. Or, extra promotional gifts from events they'll never use again, like old mugs and travel bags. Many local schools or pre-school programs gladly accept extras like this to use in their classroom.
Some nursing homes even look for old calendars with picturesque images – using the photos to brighten up patient rooms or wards. It's as easy as calling around to a few local places and asking employees to donate 2019 calendars still hanging around.
Supporting volunteering efforts in a workplace has many advantages all around. As this helpful article from WeWork states, "It can often be more cost effective than simply writing a check from your company to a charity, and it provides free labor to an organization that's likely understaffed. There's also a benefit to your company: Studies show that corporate volunteer programs enhance employee engagement and boost morale."