Dr. Amy Comander, MD, Director of Breast Oncology and Survivorship, Mass General Cancer Center in Waltham and Newton-Wellesley, is committed to making a difference in patients' lives every day. She does this through education, cutting-edge research, and innovative programs that supports women and families impacted by a breast cancer diagnosis. Continue reading to learn how the MGH Cancer Center supports patient outcomes.
Can you discuss the latest and greatest in Breast Cancer research?
It is very exciting that breast cancer survival rates have improved dramatically over the past 40 years, and this improvement is due to increased mammographic screening and progress in breast cancer treatments. Recently, there have been many exciting developments in the treatment of breast cancer, and at the Mass General Cancer Center, I am fortunate to work with an amazing group of colleagues who are advancing the field. When discussing the latest breast cancer research with my patients, I remind my patients that they should always have hope, since we have had many exciting new therapies approved by the FDA even in the past year! These treatment advances have been life-changing for so many women diagnosed with breast cancer.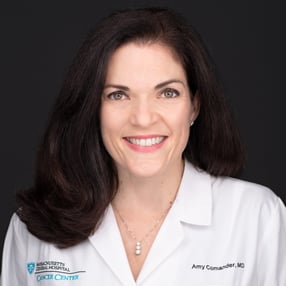 Do you think these improvements in patient outcomes will continue to grow going forward?
Yes, I am very excited and hopeful about the future of breast cancer treatment. In 2021, it is estimated that there will be approximately 280,000 women diagnosed with breast cancer in this country. While this number is still very significant, I am hopeful that patient outcomes will improve, with further advances in early detection and clinical trials that further advance treatment options. Another area that we need to pay close attention to is healthcare disparities for women with breast cancer. There are many factors that contribute to this problem. In particular, mammographic screening rates have declined during the pandemic, particularly in underserved populations with racial or economic barriers, and thus improved access for screening in underserved populations is critical.
In what ways can we increase access for these underserved populations?
At this time, the American Cancer Society is making an effort to encourage women to resume screening for breast cancer. Making breast cancer screening accessible to all women is a number one priority. I I am very fortunate to work with my colleague, Connie Lehman, MD, Ph.D., chief of breast imaging at Massachusetts General Hospital. She and her colleagues have developed an "immediate-read" mammography program to reduce racial disparities in the time to diagnostic imaging following an abnormal screening result. This program ensures that all of our patients have the option to establish a diagnosis as quickly as possible.
How is the Mass General Cancer Center making a difference for patients today?
I am very fortunate to work as a breast oncologist at the Mass General Cancer Center, where I care for my patients alongside exceptional colleagues. I am proud of the excellent multidisciplinary care that we provide for to our patients newly diagnosed with breast cancer. At both the Mass General Cancer Center in Waltham and at Newton-Wellesley, we see patients in a multidisciplinary clinic, where the patient sees a breast surgeon, breast oncologist, and radiation oncologist. Each patient also meets with one of our nurse navigators, who can arrange consultations with a social worker, a genetics counselor, or a referral to the PACT (Parenting at a Challenging Time) program if she has young children.