Flu nearly disappeared last year due to all of the safety measures we took with masks and distancing. As a result, many people didn't get a flu shot last year or weren't exposed to the flu at all. This is why getting your flu vaccine this year is critical to protect yourself and those around you.
As the colder weather moves people indoors, both Covid-19 and the flu are now showing up, and vaccinations can prevent both. In recognition of National Influenza Vaccination Week, learn why getting your flu vaccine is especially critical this year from our internal expert, Dr. Jim Hellinger, Infectious Disease Specialist and Medical Director at AllWays Health Partners.
Protect yourself and those around you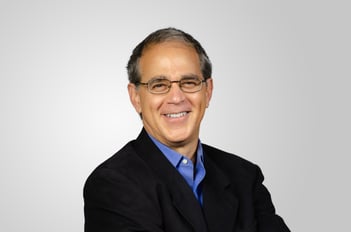 With all the respiratory infection protection measures in place for COVID-19, particularly masking and social distancing, many were not exposed to the flu last year—and some may have missed their flu shots. Now it's been two years since the last real flu season, and since immune protection to flu drops with time, all these elements may predict this year will be a bad flu season.
Influenza or flu season starts mid to late November, and the peaks can be as early as December through February. So, for all those reasons, it's an excellent time to boost your immunity and get your flu shot now, as it can take a few weeks to be maximally protected by the vaccination. It is better to vaccinate in advance rather than worry once flu is already in your community.
The flu might be mild for some people, but from October 1, 2019-April 4, 2020, it was responsible for 410,000 – 740,000 hospitalizations, according to the CDC—and 24,000 – 62,000 deaths. Keep in mind that just like the COVID-19 vaccine, when you get your flu shot, you're protecting not just yourself but also your family, your workplace, and anyone else you're in contact with. You're also helping reduce influenza spread in the community. Those at the highest risk of severe influenza include young children, pregnant women, individuals with asthma, chronic illness, or that are immunocompromised, and the elderly.
The benefit for you and your family can be substantial. All of the principles you've learned about keeping safe with the COVID-19 vaccine apply to flu vaccination. More protection from vaccination against flu and COVID-19, together with attention to respiratory infection protection measures, will support a safer community.
For maximum protection, you need to get your flu shot yearly
Influenza is an aggressive infection, so the best way to protect yourself is to get your flu shot which targets the flu strains expected this year; this prompts your body to develop immunity and fight it off. Unfortunately, that immunity doesn't last forever, so a yearly flu shot is recommended for children and adults over six months old.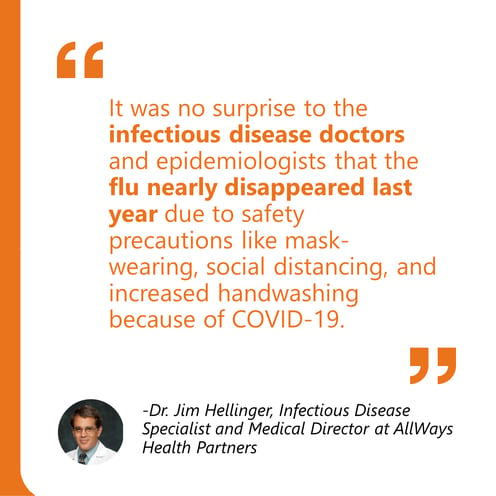 At the peak last year, the flu rates were more than ten times lower (just 1%) than the previous flu season. We're not likely to be so lucky this year.
This year, many who have gotten a COVID-19 vaccination have dramatically changed their behaviors; most have gone back to some semblance of normality by visiting friends and family. But even if you're being somewhat careful, you're going to be exposed to flu because it's so widespread.
You cannot get the flu from the injected flu vaccine
Injectable flu vaccinations used most widely are inactivated and do not have any live influenza virus in the shot. However, how you get your flu vaccination can make a difference. If you're taking public transportation or hanging out in a crowded lunchroom or clinic waiting room for a long time, this will increase the number of people you're in contact with and your risk for respiratory infection. Instead of waiting at your doctor's office, many people have found their local pharmacy may be an easier way to schedule or walk in to get a quick flu shot; this way, you may not have to deal with long waiting times.
Flu vaccinations are also available as a liquid mist applied into your nose. This nasal vaccination contains weakened, live flu virus and is an alternative for some children and adults up to age 50. There are restrictions for receiving this vaccination, and recipients should avoid immunocompromised individuals for 7 -14 days.
Flu vaccine and COVID-19 vaccine
If you've recently had the COVID-19 vaccine, it's recommended that you wait 10 to 14 days until the next vaccine. The easier pathway for those that still don't have their COVID-19 vaccine is to get both vaccines at once. COVID-19 and influenza both cause respiratory illnesses that are indistinguishable without specific testing. You can contract both illnesses simultaneously, so it's best to protect yourself from the two. These vaccinations can be safely given together to induce the right protective immunity—and most people have very few side effects.
For more information, visit massgeneralbrigham.org/flu-vaccines