"My favorite part about working at AllWays Health Partners, first and foremost, is the people; it's my coworkers and colleagues, whether it's within our department or cross-functionally," explained Zachary Kahn, Manager, Account Management at AllWays Health Partners. Learn more about how Zach interacts with our customers.
Zachary brings more than 16 years of industry experience to his role as a sales professional at AllWays Health Partners. Read our full interview below to get to know more about his responsibilities, his passion for our products, and the innovation he brings to our team.
What does your day-to-day look like at AllWays Health Partners?
We use several distribution channels to sell and retain our product base in the marketplace, so I work with our intermediary partners, the Massachusetts Health Connector, and various other agencies, including cooperatives and ongoing day-to-day relationship management. I also run our merged market retention team for existing business sales with a group of account executives and sales specialists.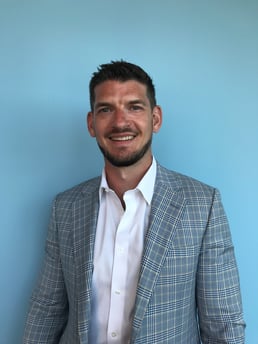 I also work on our key accounts troubleshooting or stepping in for a short period to lend assistance for deliverables, including our contract work. I have recently taken over the account management for one of our larger clients on an interim basis.
What's your favorite part about working at AllWays Health Partners?
My favorite part about working at AllWays Health Partners, first and foremost, is the people; it's my coworkers and colleagues, whether it's within our department or cross-functionally.
During the state of emergency and continued public health emergency, my team of account executives or sales specialists came together to ensure anybody who needs help paying their premium—particularly someone who may be falling behind—has some flexibility.
Can you tell me about your career journey and what led you AllWays Health Partners?
In 2005, I became a customer service representative for a health insurance carrier, where I learned all about customer service. Next, I became an auxiliary supervisor and used that experience to pursue my career in call center management. This is where I managed a customer and provider service center for another carrier in Massachusetts, which ultimately led me to AllWays Health Partners.
As a sales program manager, I'm currently in channel distributions, relationship management, and account management in the merged market and key accounts.
What do you find most interesting about health insurance and health care?
I think you have to keep your head on a swivel here. We're in an industry with changing regulations, legislation, policy procedures, so it's always something fresh and exciting. I find, especially from this perspective, that we deal with many service interactions. If things get to a point where people have an issue, generally, that comes to our existing business team. So, because of that, we run into many different situations, whether it's related to someone's medical needs or claims. Your day-to-day can be completely different from the previous day, which can start your can feel like a fresh start—and a new challenge, but at the same time, an opportunity to learn.
What do you think is something everyone should know about having health insurance?
Health insurance can be challenging and confusing. So, everyone should know that it's okay to call your health plan for help. In my experience, people typically run into problems because they haven't reached out for assistance.
In health insurance, you must accept that you don't have to be a subject matter expert in it; you just have to ask questions. Outcomes are much better for our clients and customers when our customer service team or sales team is involved early on.
What would be the biggest piece of advice you could give to somebody looking to enter the healthcare industry?
Absorb knowledge and lean on those around you in a positive way. Any company you join is going to have a wealth of subject matter experts. Making relationships with some of the individuals can break down barriers. Just because you're in sales doesn't mean that you can't have conversations with people in clinical; it also doesn't mean that you can't talk to folks who handle utilization and claims management. Talking to colleagues cross-functionally opens up a big picture side of things. This will only increase your knowledge base, empower confidence, motivate your success, and introduce you to great people.
What makes AllWays Health Partners unique?
At AllWays Health Partners, we're cutting-edge. We explore the different levels of our relationship with our parent company, Mass General Brigham, to uncover opportunities we can bring to our customers and clients. We're just scratching the surface there, but we're rolling out all of these very cool initiatives like performance guarantees that we've done for our larger clients.
We're very creative and customer-focused—always looking at how we can improve our clients' healthcare experience and make healthcare more understandable. We view ourselves as a disruptor; we're not looking to do the same old thing, and we're constantly looking not for the sake of doing something new but doing something new that brings value to people, our clients, and the market.