Now that Phase 3 of the Massachusetts reopening plan is in effect for most cities and towns, gyms and fitness centers have been allowed to reopen so long as they are following certain safety guidelines. But many people are still uncertain about how safe it is to return to the gym. We're looking at these safety protocols, some alternative options for going to the gym, and what members of our AllWays Community are saying about their decisions to go back or stay at home.
What does safe look like?
In the Phase 3 guidelines for fitness centers and health clubs, there are many mandates and recommendations for keeping customers safe that affect the way we interact with each other and the equipment at the gym. Facilities are being asked to:
Limit occupancy to 40%, or 8 people per 1,000 square feet
Arrange equipment so exercise areas are at least 14 feet apart, or 6 feet if barriers are installed
Require face coverings
Ensure access to hand washing facilities, hand sanitizer, and disposable wipes
Sanitize equipment between uses
Encourage customers to only use one piece of equipment at a time, and to bring their own personal equipment (such as spin shoes, jump ropes, yoga mats, etc.) when possible
Offer outdoor exercise as much as possible
Consider using a reservation system to adhere to occupancy limits
Note: If you're planning on going to any gyms or fitness centers, you should check their websites to find out any specific guidelines they have in place.
These are just a few of the guidelines designed to keep gym members safe. But guidelines can't guarantee safety. When it comes to the gym, some types of equipment are more difficult to clean than others, and spending long periods of time in an enclosed space where people are breathing heavily and sweating carries the risk of infection.
Even with strict social distancing and cleaning protocols in place, it's important to remember that these safety measures only lower your risk of getting COVID-19; they don't prevent it entirely. Experts say the best way to stay safe from coronavirus is to stay at home as much as possible.
If you do choose to go to the gym, make use of their hand sanitizer and disposable wipes to keep the equipment you use safe for yourself and others. Keep your mask on at all times, maintain social distancing, and bring your own personal equipment when you can. Also consider looking into fitness centers that offer outdoor activities. Many gyms are moving some of their equipment outdoors and offering classes and training outside, while still maintaining social distancing.
Alternatives to going to the gym
There are many other ways to make regular exercise part of your routine that don't involve a visit to a health club. Here are a few ideas:
Online fitness classes are a great option for working out at home. If you currently have a gym membership, check to see if they are offering any virtual workouts or recorded classes that you can follow along with. YouTube is another great source for finding free routines and exercises. You should also check to see if your health plan has an online fitness partner. For example, most AllWays Health Partners member plans include access to small group instructor led virtual fitness sessions through SplitFit as part of the AllWays Health Partners fitness reimbursement benefit.
Running and walking are two activities that you can do almost anywhere, weather permitting. Making time for a daily walk around your neighborhood or visiting a local park for a scenic jog with family or household members are great ways to get moving more often.
Need some motivation? Download a fitness app or tracker for your smartphone or watch. These apps can help you track your steps, measure how many calories you've burned, help you record meals and water intake, and more. Tracking your steps or minutes and challenging friends and family can also be great motivation to exercise.
Check to see if your health plan has any online wellness tools and resources available for members. For example, AllWays Health Partners offers CaféWell, an online platform that features personalized health assessments, interactive webinars on popular health and wellness topics, and community step challenges. These tools can help you work toward your overall health and fitness goals with personalized articles and recommendations.
If you aren't sure when you'll be comfortable going back to the gym, but miss the equipment they have available, it might be worth investing in your own home fitness equipment. This can be a big investment, but if it helps you incorporate exercise into your daily/weekly routine, the health benefits and the money you save on a gym membership might be worth it.
What do our members say?
To learn more about this topic, we reached out to the AllWays Community, a group made up of AllWays Health Partners members interested in sharing their thoughts and feedback through health care-related surveys. We had 134 responses from our Community members on questions about their current fitness habits and plans to return to the gym. Here's what they had to say.
Overall, most people say they are paying more attention to their health and wellness behaviors now than they were before COVID-19.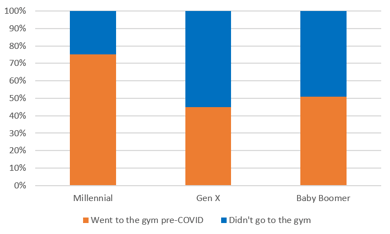 Just over half of our respondents went to the gym before coronavirus, including 75% of surveyed Millennials. Of the people who had a gym membership, 71% kept their membership during this time.
The most popular activities people participated in while they couldn't go to the gym included: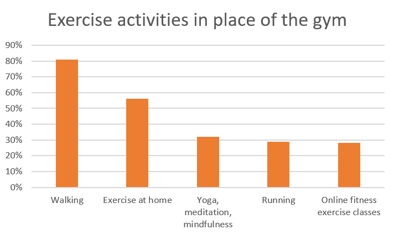 Walking – 81%
Exercise at home – 56%
Yoga, meditation, mindfulness – 32%
Running – 29%
Online fitness exercise classes – 28%
Mobile apps are also popular, with 53% of respondents saying they use one to track or support their fitness goals.
When it comes to going back to the gym, people had mixed feelings. A little under half (42%) said they plan to return within the next month or sooner. But 29% weren't sure when they would return, and 11% say they don't plan on going back at all.
We also asked what they were looking for in terms of the structure and offerings at newly reopened gyms to get a sense of what might help people feel safe. A third of people were interested in outdoor options, and another third were considering only boutique gyms that see less traffic than a big box gym might. Virtual options also appealed to members—43% of Millennials said they were interested in online classes.
A quarter of respondents also expressed interest in group classes. While many of the activities done in group workouts like yoga, Pilates, Zumba, etc., can be done alone, it's hard to replace the social aspects of these classes. A few of our respondents specifically mentioned wanting to see their gym friends again in their reasons for planning to go back to the gym soon.
For people who plan to wait longer or not return, their reasons include:
A lack of confidence in how successful safety measures will be
Uncertainty around how vigilant other gym members will be about social distancing
Concerns about being in indoor spaces where people are breathing heavily for long periods of time
Access to online classes or their own home fitness equipment
Home workouts are more convenient
Waiting for a vaccine
Is it safe?
Ultimately, the decision to go back to the gym is your own. Exercise and fitness are an important part of our overall health, and fitness centers can provide the equipment and motivation to get active. If you feel confident in your gym's ability to adhere to guidelines and your own commitment to sanitizing equipment and social distancing, returning to the gym might be the right choice for you.
If you can find alternative ways to stay active at home or outdoors, those options do carry less risk related to COVID-19. Whatever you decide, remember to follow safety guidelines to keep yourself and others as safe as possible.