Over the past few months, we've released some great resources for brokers and their employer clients. Each of these tools was created to make health plans and benefits easier to understand. They contain helpful guides, insights, and statistics on topics like the multi-generational workforce, open enrollment, and access to health care. Below you'll find a summary of each document, along with links to some recommended reading and the tools themselves.
1. Health plan comparison chart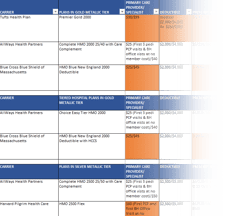 Need help comparing small group plans in Massachusetts? We have you covered with our plan comparison chart. The chart includes the top health plans by membership in 2019, with information about their benefits to help you easily weigh the pros and cons of premiums, networks, and cost sharing.
We first published this chart in October, and now have a brand-new update containing 2020 plan information. Prepare yourself for open enrollment by grabbing a copy now.
---
Get the download: Health plan comparison 2020
Learn more about this chart: "Get started comparing small group health plans for 2020"

2. Annual renewal guide e-book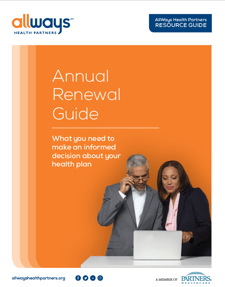 The health plan renewal process can be overwhelming. With so many factors to take into consideration, it can be hard for employers to feel fully informed when it comes to deciding whether their current plan is the best fit or if they need to switch.
Our renewal e-book breaks down that process with a 5-step checklist, so employers can feel confident about their renewal decisions. This is a great resource to share with your employer clients so you can get the information you need to support their health insurance choices.
---
Get the download: Annual Renewal Guide
Read the companion blog post: "What to consider when choosing a health plan for your business"
3. Breaking barriers to accessing care report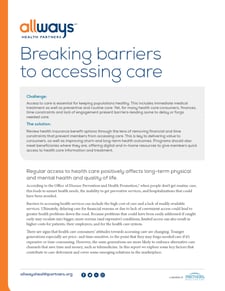 Many Americans struggle to access health care. Our new report goes in-depth on the reasons why, investigating the barriers many people face when it comes to getting regular care.
From statistics to research-supported analysis, you'll get a comprehensive view of the problem and learn about how employers and health insurers can help solve it.
---
Get the download: Breaking barriers to accessing care
See a preview of the report: "Financial stress prevents Americans from getting care"

4. Multi-generational workforce whitepaper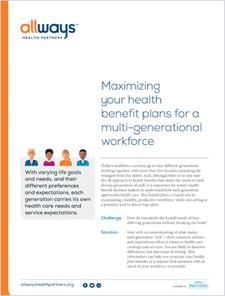 Our current workforce spans four generations, each with varying life goals and health care needs. Trying to choose health benefits that work for such a diverse population can seem impossible.
Our whitepaper has the tools you need to satisfy each generation in your workplace. You'll get complete profiles of each generation with information on how they make health care decisions, including what they value most from their plan.
---
Get the download: Maximizing your health benefit plans for a multi-generational workforce
Preview the whitepaper: "4 key insights into Millennials' health care decisions"