In a recent study published by Telehealth and Medicine Today, researchers from the COVID-19 Healthcare Coalition reported on the impact of telehealth over the past year, measuring high satisfaction rates from both providers and patients. The study highlights virtual care and telehealth trends as we enter the "new normal" for health care delivery in the United States.
In response to the pandemic, the MITRE Corporation and Mayo Clinic founded the COVID-19 Healthcare Coalition. Their recent publication, "A COVID-19 Telehealth Impact Study—Exploring One Year of Telehealth Experimentation," found that 75 percent of providers indicated that telehealth enabled them to provide quality care—and 84 percent of patients agreed that the quality of their telehealth visit was good.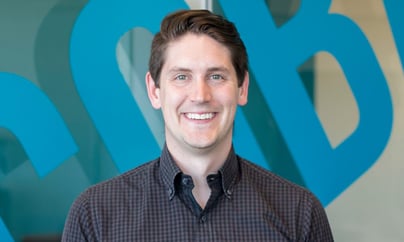 In addition to the study, we wanted to share some real-time insights from one of the contributors, Nick Dougherty, our Vice President of Digital at AllWays Health Partners.
Q: Do you see this trend of telehealth adoption continuing to increase in 2021 and beyond?
A: This genie will be hard to put back into the bottle. There is a current trend where people remain working from home, and I think we will see similar trends in people continuing to access care where it's most convenient. I do not believe all care will move virtual, but I am confident that much of our care will move virtual first or take the hybrid-care model.
In April of 2020, at the beginning of the pandemic, 49.4% of total claims were telehealth-related. Anecdotally, we heard from health organizations that had to implement five and ten-year telehealth strategies in anywhere from five days to five weeks. In my previous role at MassChallenge, we hosted a roundtable with our health system and health plan partners. We asked if this trend would continue, and the answer was unequivocal: telehealth is here to stay.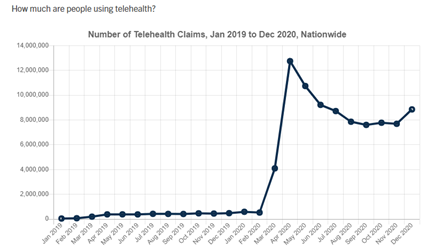 Also, if you look at the claims data above (i.e., how many times people are filing for insurance to pay for a telehealth service) from our study, you can see that telehealth utilization spikes in the April-May 2020 timeframe—and plateaus in the summer and fall. What's interesting to me is that many in-person healthcare services started to come back, but we didn't see telehealth utilization crater to pre-pandemic levels. This indicates to me that we may be observing a new baseline or at least we will have telehealth utilization baselines above the historical pre-pandemic benchmarks.
Q: Was the push into telehealth inevitable?
A: I believe the expansion of telehealth was inevitable and certainly expedited by the pandemic. The Affordable Care Act and subsequent policies at federal and state levels (as well as private sector alternative payment models and payment reform) are shifting the underlying incentive models for care delivery in the United States. In my previous role at MassChallenge our job was to help organizations navigate this transition. With new incentives for healthy and satisfied patients, more needed to be done outside the four walls of the traditional brick and mortar health institution. While telehealth isn't the only solution for a more distributed care model, it is certainly a part of that solution portfolio. Organizations were making big bets on it before COVID-19, so the pandemic made it ubiquitous.
Q: Did you expect to see such high satisfaction rates for telehealth from providers and patients?
A: The perspective differences between early adopters of technology and those who adopt later tend to vary. Previous to the pandemic, many prominent telehealth utilizers chose that as their medium or were at least invested in the medium to begin with. So, to see high levels of satisfaction as telehealth became a new normal for everyone is compelling. I can't say I am surprised or that this was expected. I frankly could have seen this going either way.
To further understand the patient's motivations, we sought to see how they would compare telehealth to in-person services if both required co-pays.
Thinking about your last telehealth visit, would you have chosen telehealth over an in-person appointment if both required a co-pay?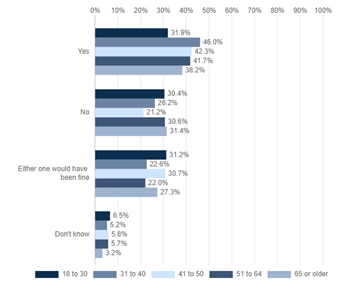 This data illustrates that the majority either prefer telehealth or would have been fine with in-person or telehealth with only 21.2-30.6% (depending on age group) preferring in-person only. This illustrates that people are not just satisfied, they also prefer telehealth.
Q: What does this new data around telehealth mean for providers in the future?
A: While I am not a provider and would defer to my colleagues at the American Medical Association that collaborated with us on this study, I do believe that our data indicates that telehealth is going to be a significant part of our new normal and that providers will need to work with patients, vendors, payors, and more to ensure that access to equitable, accessible, and quality care is as satisfying as possible. I do not believe it is a viable strategy to ignore telehealth.
Q: How does telehealth support AllWays Health Partners's initiative to care for patients throughout the continuum of care?
A: At the beginning of the pandemic we launched AllWays on Teams to support our providers with a free telehealth platform to support their patients as part of our commitment to delivering high-quality access to care for all our members. We also offer 24/7 virtual urgent care, self-service digital solutions to support a variety of needs for our members, and are working hard to bring a lot more online for our members and providers. If you're a member or provider and reading us, let us know your telehealth story or share your vision for what the new (and digital enabled) normal looks like.