Diversity in healthcare is a crucial component in patient care delivery with measurable benefits that support comfort, communication, and trust between patients and providers. Continue reading for tips on how to ensure you're providing culturally sensitive care with insights from Virgilio Velez, BSN RN, and Diversity, Equity, & Inclusion (DEI) Program Officer at Lawrence General Hospital.
Evidence suggests that most healthcare providers have implicit racial bias, whether they are aware of it or not. People of color are also generally less satisfied with provider interactions, and as a result, may not receive the same quality of care that White patients receive. That's why providers must address health equity to improve health outcomes for all populations while closing the gap between disparities. Prioritizing diversity in healthcare can lead to better communication, increased engagement, and overall better quality care.
In response to this ongoing need, more hospitals like Lawrence General Hospital (LGH) are hiring for roles related directly to DEI to educate the community both internally and externally. Virgilio Velez, BSN RN, and DEI Program Officer at Lawrence General Hospital offered the following DEI examples implemented at LGH: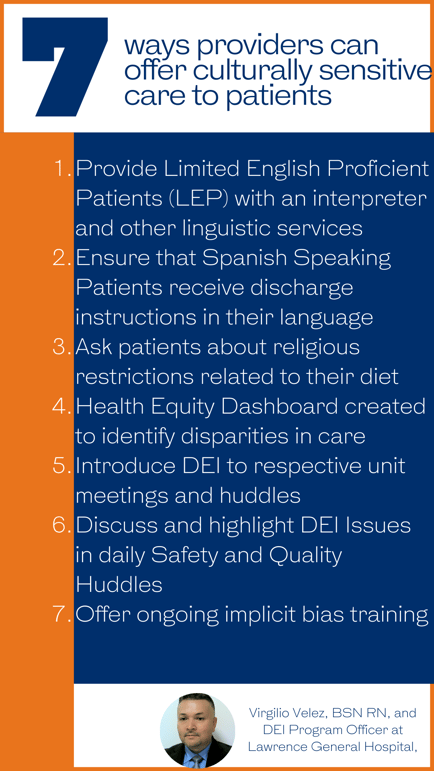 Our partners at Mass General Brigham implemented United Against Racism, an initiative that addresses leadership, employees, culture, patient care, community health and policy advocacy. Anne Klibanski, MD President and Chief Executive Officer Mass General Brigham explain that this is the organization's, "roadmap for delivering the solutions our patients, our communities and our staff deserve. Our system-wide plan includes specific timelines and metrics of success on our journey to becoming an anti-racist organization. You can learn more about our systemwide strategy from Tom Sequist, MD, Chief Patient Experience and Equity Officer.
To establish clear metrics and accountability, it's necessary to hire someone that will specifically hold responsibility for Health Equity and DEI work. This person will help drive resources for initiatives in creating a more inclusive, diverse, and culturally sensitive organization. Beyond this leadership it's critical to hire, recruit and retain a workforce that can address the needs of patients, families, groups, communities, and the population served. Additional tactics include:
Engage community partners to eliminate health disparities and alleviate the burden of social determinants of health, especially in minority populations.

Improve EMR data collection and use EMR data to identify and measure progress in addressing health disparities experienced by our patients.

Provide employees with opportunities to engage in discussions about DEI topics, voice DEI concerns, and work with leaders to promote inclusion and belonging.

Review hospital policies and practices to identify and reconcile structural racism and other systemic inequities

Develop external and internal candidate pipelines, recruitment, and retention practices that allow us to build a workforce that best reflects the communities we serve and meets the linguistic and cultural needs of our patients
Learn more about why racism is both a health and social issue.