Have you recently started taking medication for depression or perhaps considering it? If you answered yes or are just curious, this is your chance to learn about best practices along with lifestyle habits that support depression medication use. Continue reading for added insight from board-certified general and child adolescent psychiatrist, Debra Katz.

What are some steps to take when starting a new medication for depression?
It is important to be prepared for your first meeting with a clinician for a diagnostic interview and potential prescribed treatment. So, take the time to write down all of your questions in advance along with a description of your symptoms.
Bring your medical history and tell the doctor about any medications you're taking, including any vitamins and supplements; essentially anything that could potentially interact with the new medicines they prescribe. Plus, remind your doctor about any allergies or problems you've had with any medication.
You can also share any concerns regarding alcohol or recreational drug use. The clinician respects your privacy and will not share any confidential information without your permission. To further prepare, you can find research-based best practices that are factual and reliable from the National Institute of Mental Health and Substance Abuse and Mental Health Services Administration.
How long does it take for medication for depression to start working?
It depends on the medication and what you're taking it for. Antidepressants can start working anywhere from two to eight weeks. So, patience is of the essence, acknowledging that it's especially hard to be patient when you're not feeling good. That's why I recommend therapy in combination with medication along with self-help tools, exercise, and meditation. These will help while the medicine is taking time to work and can also combat potential side effects. It's important to note that if you do experience side effects, they tend to lessen over time. Therefore, the first few weeks to a month can often be the most challenging.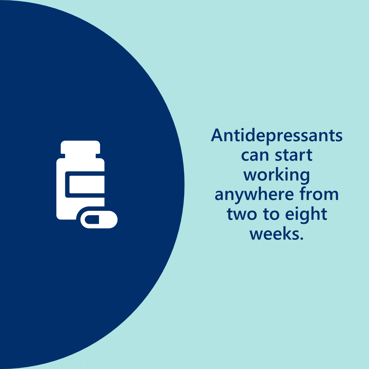 For example, if you are having trouble sleeping, the doctor may prescribe something else to help you in the short term. Or, if the medication is making you sleepy, your clinician may ask you to take it at bedtime instead of in the morning. That's why it's so important to communicate with your prescriber, whether it be a doctor or nurse practitioner. They may be able to adjust your medications or give you suggestions about what you can do to better manage the side effects.
Do therapy and medication go hand in hand?
Yes. Therapy may be the first line of treatment in situations that cause stress, such as work, family, life changes, divorce, and grief. If you are seeing a psychiatrist, it really should be in tandem with therapy because research has shown that the combination of therapy and medications can give an individual the most lasting positive effects.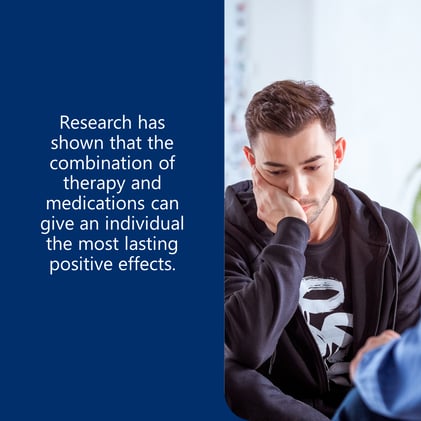 The brain is an organ like the heart or lungs, and medications work to change or modify abnormal brain chemistry. It has been well researched that life stressors and experiences, especially traumatic and adverse childhood events, significantly impact the development of depression and anxiety symptoms. Having a safe space to talk and process in conjunction with medication gives the best outcomes.
Are anxiety and depression related?
Yes, anxiety can be a symptom of depression—in addition to appetite disturbances, sleep disturbances, difficulty concentrating, feeling sad, or having a depressed mood.
When anxiety is part of depression, it can be even more debilitating than feeling sad. Sometimes when doctors start treating a patient for depression, they will also start short-term medication for anxiety. These medications work by re-calibrating and readjusting brain chemistry. Our brain cells or neurons have ways to communicate with each other, and their communication is based on chemicals.
When a person is depressed, there's an imbalance which means there's either too much or too little of a chemical that affects how nerve cells speak to each other; this impacts overall feelings and behavior. Antidepressant medication works to rebalance and eliminate depression and anxiety symptoms.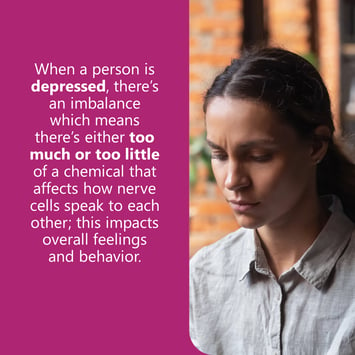 What are some of the dos and don'ts for taking medication for depression and/or anxiety?
DO communicate any side effects or concerns to your doctor or prescriber.
DO take the exact amount of medication verified with your prescriber, and don't make any adjustments without talking with your prescriber.
DO talk to your prescriber if you feel like your medication is not working
DO try to take your medication at the same time of day and make every effort not to skip a dose.
DO support your medication with exercise, healthy eating, getting enough sleep, being with loved ones, and support from therapy.
DO tell your prescriber if you are to start a new prescription and check with your pharmacist about any interactions.
DO check with your pharmacist about drug interactions with other medications and certain foods or drinks. For example, grapefruit juice is known to interact with certain antidepressants
DON'T abruptly stop your medication; consult with your prescriber about tapering off medication instead of stopping all at once.
DON'T use alcohol or street drugs; They can worsen symptoms of anxiety and depression—and negatively interact with antidepressants or anti-anxiety medication.
DON'T ever take medications from another person—and don't give your medicines to anybody else.
DON'T drive right after taking medication if it makes you sleepy. In this scenario, talk to your doctor about possibly changing the time of taking your medication to nighttime.


What are some lifestyle habits that help improve symptoms of depression?
Exercise can be its own natural chemical modifier, as studies show it affects your endorphins, which is one of the chemicals in the brain that influences how nerves talk to each other. Nutrition is very important, too, as a vitamin deficiency could worsen symptoms. A complete medical workup can determine whether something else is or isn't the root cause or contributing to the depression.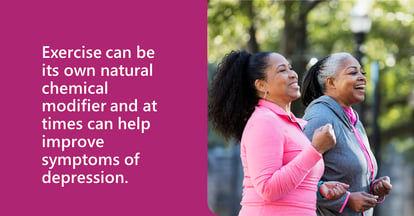 Has there always been a need for medication to treat depression?
The need for antidepressant medication has always been there. But things like job interruption, increase in home violence, isolation, and loneliness due to the pandemic have all contributed to the rise in anxiety and depression we've seen nationally and globally. It's also contributed to the increased use of recreational drugs and alcohol as a way to self-medicate.
The pandemic has propelled the need for mental health services to the mainstream. Remember that your brain is an organ just like your heart and lungs. A holistic approach recognizes the connection between mind and body as one, which is why mental health is just as important as physical health.
Visit our Behavioral Health page for more information about behavioral healthcare providers and resources.
To learn more about emotional wellness, download our free eBook.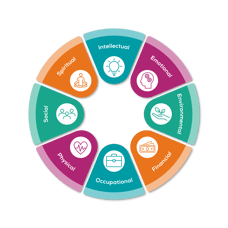 Meet Debra Katz: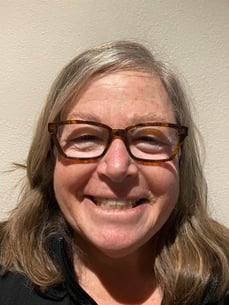 Debra Katz is a board-certified general and child adolescent psychiatrist with over 30 years of experience. She went to medical school at the George Washington University, followed by training in Boston at Tufts-New England Medical Center. Her career has focused on community mental health, child adolescent services, juvenile justice, and individuals on Medicaid or the uninsured. Debra has worked with Optum for 18 years as a medical director, most recently as a National Medical Director, specializing in Youth with special needs and adults with Serious Mental Illnesses.