When it comes to health insurance benefits related to pregnancy—regular prenatal checkups, vaccinations, and screenings are essential. But that's far from the only type of benefit that can support pregnant employees. Here are some to consider if you want to ensure your workforce has the best coverage possible when it comes to pregnancy.
Mental health
Recent studies suggest that up to 20 percent of those who are pregnant suffer from mood or anxiety disorders, and about 10 to 15 percent experience clinically significant depressive symptoms. Even though depression is relatively common during pregnancy, many at risk don't receive any type of treatment.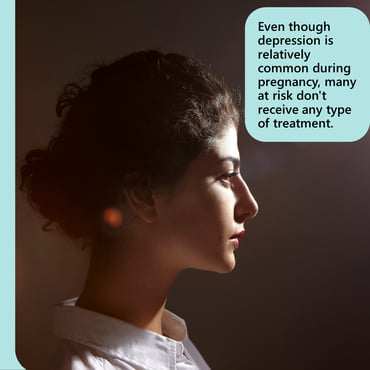 Those with a history of psychiatric illness can be particularly vulnerable, especially if they have to discontinue medication due to pregnancy. For example, one study looking at 82 pregnant women found much higher levels of relapse for depression among those who stopped their antidepressant medication.
Making sure that mental health is available during pregnancy is crucial, even if a pregnant employee doesn't use the benefit right away, or utilizes mental health services for postpartum issues.
Fitness options
Physical activity and exercise during pregnancy can bring major benefits, studies have found, and includes decreased risk of gestational diabetes, faster postpartum recovery time, lower risk of pregnancy complications, and improved mental health.
Research indicates that exercise during pregnancy helps babies, too. One study looking at 814 infants found a link between lower lung function and physical activity in mothers compared to those born to more active mothers.
Health benefits that make it easy and affordable for those who are pregnant to get more activity can be important for these types of outcomes. For example, consider free or discounted gym memberships, prenatal yoga classes, or physical therapy as part of your health benefits mix.
Tobacco cessation
According to a 2019 study in the journal Reproductive Health that used data from nearly four million births, about 7 percent of women smoked during pregnancy, particularly in the first trimester. However, it's important to keep in mind that this number represents only those who were willing to admit tobacco usage during pregnancy—which isn't always the case, and many who are pregnant may be very reluctant to disclose the addiction to employers so they can get help.
That's why it's helpful to offer this benefit to everyone, including pregnant employees, and make tobacco cessation accessible and anonymous. The study on pregnancy and smoking found that the majority of those surveyed were ready to stop smoking, but some simply lacked the resources to do so successfully.
Nutrition counseling
Often considered preventive care, nutrition counseling can be a valuable way to support pregnant employees. Healthy eating is important for everyone, but it's especially crucial during pregnancy to support maternal and child health.
According to Johns Hopkins Medicine, approximately 300 extra calories are needed daily to support a healthy pregnancy, and these calories should come from a balanced diet of protein, fruits, vegetables, and whole grains. The right diet can also reduce the chances of nutritional deficiencies, and may even help reduce some pregnancy symptoms like nausea and constipation.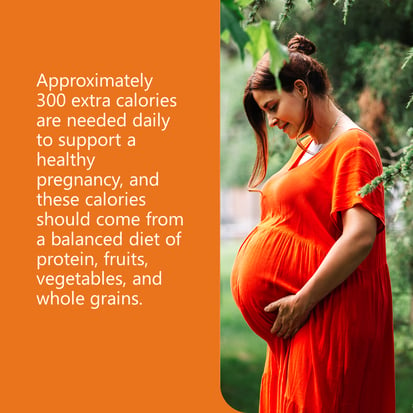 Having professional guidance can be a boon, which is why offering nutrition counseling in your benefits package can be a smart idea.
Condition management
For some, pregnancy isn't the only condition they're handling. An employee may have a chronic health condition like diabetes, hypertension, thyroid disorders, an autoimmune disease, HIV, epilepsy, asthma, or others. Each of these brings its own concerns when it comes to how it affects pregnancy.
Chronic disease increases the risk of complications during pregnancy, research suggests, so making sure that your health benefits include proper disease management is key.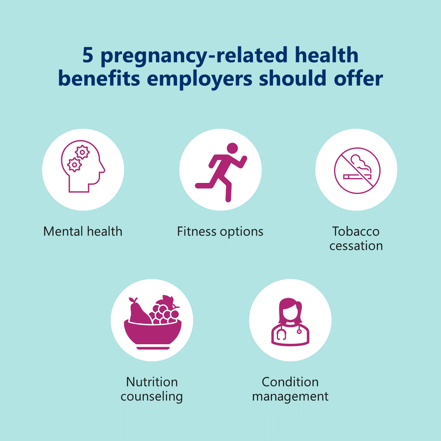 How can you know what other benefits might be meaningful for pregnant employees? Ask. Getting feedback from your workforce is one of the best ways to refine and optimize your benefits mix, and it helps employees feel they have a voice—and the support they really need.
To get a better understanding of which benefits and wellness offerings would provide the most value to your employees, download our ultimate guide to winning with workplace wellness.