As part of an integrated health system, our team at AllWays Health Partners remains committed to ensuring access for our members to critical healthcare services throughout the COVID-19 pandemic. Now that children ages 5 to 11 who live or go to school in Massachusetts are eligible to get the Pfizer vaccine, we wanted to share some recent findings from one of our system's experts: Lael Yonker, MD Director, Pediatric COVID-19 Biorepository and Director, MGH Cystic Fibrosis Center at the Massachusetts General Hospital for Children. Continue reading to learn more about how the pandemic is impacting kids.
Health experts like Dr. Yonker have been looking closely at how the COVID-19 pandemic affects kids from the very beginning. She noted that non-profits, foundations, and philanthropy have played a critical role in rapidly advancing research and clinical care during this challenging time.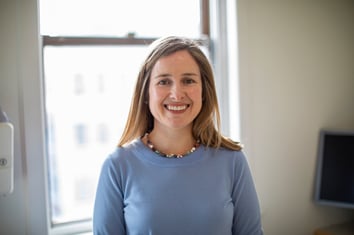 Why do kids need masks?
Kids need masks just as much as adults. Since the beginning of the pandemic, we've been collecting cultured samples of kids exposed to COVID-19 and comparing these with samples collected from adults. Mass General Hospital for Children's findings show that all ages of people can carry a high viral infectious load of COVID-19. Even though symptoms might be mild in children, children with COVID-19 are equally contagious as adults. The CDC and American Academy of Pediatrics recommend children ages two years old and above wear a mask to reduce transmission.
Are the COVID-19 variants more of a concern for children?
Kids can carry and transmit COVID-19 variants. As long as the virus is in the community, there is a risk that more infectious variants of concern will develop. Unvaccinated individuals are more likely to become infected and transmit the virus. Vaccinating more people—including children ages five years and up—should reduce transmission.
Kids are becoming infected at higher rates. At the beginning of the pandemic, children were kept at home and therefore less likely to get infected; this gave us a false sense of security that children were spared from COVID-19. When life resumed, there was a holiday peak last year and an additional spike this summer and fall, similar to what we've seen in adults. Recent peaks have been driven by the highly contagious delta variant, along with loosened social distancing and mask use. The percentage of infected children requiring hospitalization has stayed about the same (one percent), but as numbers climb, more children statistically will require hospitalization. That is what we saw this fall. Although this is much lower than what we see in adults, there is also a rise in kids getting hospitalized when there are more adult cases. Mask use, social distancing, and vaccination can help reduce these numbers, which will be particularly important as we enter another holiday season.
What is Multisystem Inflammatory Syndrome?
Some kids infected with COVID-19 have also suffered from Multisystem Inflammatory Syndrome (MIS-C), a life-threatening illness that occurs weeks to months after a child had COVID-19. After about two weeks of either asymptomatic or symptomatic COVID-19, kids will clear the virus from their airways, but then the virus will live on in the gut. The virus irritates the gut lining, and viral particles leak into the bloodstream causing a child to experience a very high fever, GI issues, and sometimes, damage to the heart. As of 11/01/21—there have been 5,526 cases of MIS-C that caused 48 deaths in the United States. Current treatments include intravenous antibodies and steroids.
What do we need to know about the delta variant in kids?
The delta variant spreads more quickly than previous variants, which is why it can cause twice as many infections. The COVID-19 vaccine is effective against the delta variant and dramatically reduces serious illness and transmission. System experts recommended to vaccinate yourself and your family as soon as eligible; that applies to getting a booster when you're qualified as well. We have to be mindful of our communities, especially those immunocompromised and vulnerable populations.
For more info, watch the full webinar with Dr. Yonker and visit the CDC.